Softer Than Steel by Jessica Topper: Based several years after the first in the Love & Steel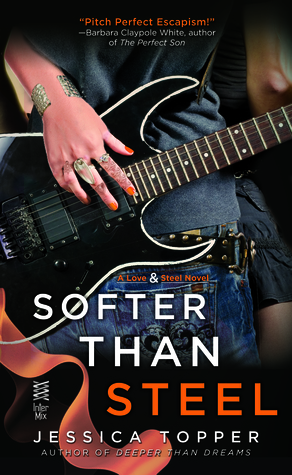 series, "Riff Rotten" Rick Rottenberg is on top of the music world with his once-again bandmate, Adrian, except his anxiety is through the roof. Unable to cope well after the death of his wife several years ago, Rick is a mess. His only savior his band.
Until he walks into Sidra's yoga studio and she provides peace for the restless Rick. But Sidra has her own issues. A bad ex, a dead mother, and her business could be doing a bit better. Together, however, they each grow stronger and become whole once again through the help of the other.
"Sod it," he mustered under his next inhale, and she felt a rush of air as his arms swept to pull her toward him, his lips landing on hers in a decadent crush.
"I always know where your body is in space," he murmured, capturing her top lip in both of his. "I can't get you off my mind, Sidra."
Softer than Steel just didn't work for me. When I read a romance I want passion and I didn't feel that well in this story. The author wanted to write a beautiful novel, and it certainly is beautiful writing, but as beautiful as it was, it felt like Topper was trying too hard.
With an extremely slow build up, I waited and waited for them to be even in the same room for an extended period, let alone in a relationship of some sort with one another. The angst, too, on both their parts was extreme. I wanted more focus on the building connection between the two than Rick's out of this world anxiety and Sidra's bitterness.
But, if you appreciate a slow build up and more of the emotional building of your individual characters, perhaps you'll enjoy Softer than Steel by Jessica Topper.
Book Info: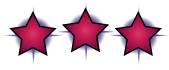 Publication: September 15, 2015 | InterMix | Love & Steel #2
From the author of Deeper than Dreams and the Much "I Do" About Nothing novels, a story that proves that you have to find yourself before you can find love…
As rock star "Riff Rotten", Rick Rottenberg has enjoyed all the perks that fame can offer, especially now that he's reunited with his former band mate, Adrian "Digger" Graves. But despite his success, Rick is a mess. Still reeling from the death of his wife years ago and terrified his demons will end his career, he agrees to seek help for his anxiety.
Burned by a musician in the past, Sidra Sullivan has closed her heart to love. So when Rick walks into her yoga studio, she wants nothing to do with him–until the bad boy shows an unexpected soft side.
As Sidra and Rick work through their painful pasts, they realize just how strongly opposites can attract. But when a crisis threatens the delicate balance they've forged, they'll discover if their love is strong enough to weather another storm or just too broken to survive….