Burning Ridge (Timber Creek K-9 Mystery #4) by Margaret Mizushima: Mattie Cobb is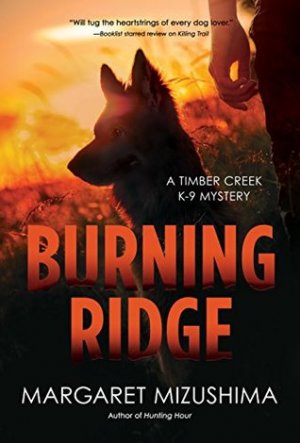 a K-9 officer in Timber Creek, Colorado. Along with her K-9 partner, Robo she works hard to keep the citizens of her town safe. She has an estranged brother she last saw at the time they were young children and put into the foster care system. After hearing from her brother, Willie after so many years she agrees to get together with him – in a neutral location – maybe Las Vegas – maybe sometime soon.
Contact with her brother has brought back to her brutal memories of abuse when she was a child. Mattie isn't sure if getting together in person will help her or hurt her. She has questions about her mother's location. She abandoned Mattie and Willie after leaving the hospital following a brutal beating by her husband. Harold Cobb went to prison for that beating and was killed there. All this family drama will come back to haunt Mattie. Death and danger follow her as she tries to answer some questions from her past and her search for her mother. Her brother is now a "missing person." Is this somehow related to the past?
Burning Ridge is the fourth book in author Margaret Mizushima's Timber Creek K-9 Mystery series. This author should be crowned the Queen of Mystery and Suspense. All her books are expertly written page-turners. The suspense keeps your heart pounding until the very end. This is also very much true of Burning Ridge. It is a fast-paced read, definitely a book you don't want to put down. Mattie and her K-9 partner Robo are very much a dedicated pair. It is very entertaining reading about how they work together and their relationship at home as well as at work. The secondary characters are very three dimentional and realistic. Margaret Mizushima does an excellent job making all her characters come to life in the pages of the book.
This book is one not to be missed!

Book Info:
Publication:

September 11th 2018 | Crooked Lane Books | Timber Creek K-9 Mystery
On a rugged Colorado mountain ridge, Mattie Cobb and her police dog partner Robo make a grisly discovery—and become the targets of a ruthless killer.
Colorado's Redstone Ridge is a place of extraordinary beauty, but this rugged mountain wilderness harbors a horrifying secret. When a charred body is discovered in a shallow grave on the ridge, officer Mattie Cobb and her K-9 partner Robo are called in to spearhead the investigation. But this is no ordinary crime—and it soon becomes clear that Mattie has a close personal connection to the dead man.
Joined by local veterinarian Cole Walker, the pair scours the mountaintop for evidence and makes another gruesome discovery: the skeletonized remains of two adults and a child. And then, the unthinkable happens. Could Mattie become the next victim in the murderer's deadly game?
A deranged killer torments Mattie with a litany of dark secrets that call into question her very identity. As a towering blaze races across the ridge, Cole and Robo search desperately for her—but time is running out in Margaret Mizushima's fourth spine-tingling Timber Creek K-9 mystery, Burning Ridge.