In Burns So Bad (Smoke Jumpers #3), author Anne Marsh parachutes readers directly into the middle of the action. This fast pace tale never ran out of fuel. The simultaneous ignition of romance and suspense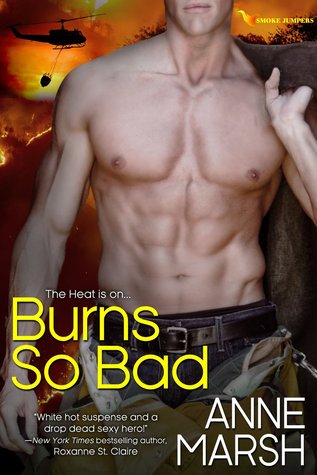 made the prefect flashover.
Rio Donovan is known around Strong, California for his playboy ways. He lives for the adrenaline rush his next jump will bring. He is completely satisfied with his life…well may be it has been too long since he last got laid – considering his sudden attraction to his new jump partner, Gia. He knows that she is off-limits but, he also never backs away from what he wants.
Gia Jackson is the first female smoker jumper to work for Donovan Brothers. Her family thinks she is incapable of enduring the daily rigorous tasks associated with her job. Gia is determined to prove her family wrong; she is here to do a job and she will not stand-down. However, the risk of firefighting just got more treacherous – it seems that Rio has set his sights on her. She is unwilling to jeopardize the respect of her teammates, even for a tumble in the sheets with Rio.
Things heat up quickly between Rio and Gia. I would have appreciated if the author had included more of their backgrounds. It would have given the characters a better foundation.
This is the third book in the smokejumpers series but, can be read as a stand-alone.
Book Info:

December 16th 2013 by Amazon Digital Services, Inc. | Smoke Jumpers #3
ONE JUMP PUTS IT ALL ON THE LINE…
Summer is heating up in Strong, California. The jump team's bad boy, Rio Donovan is one hundred percent pure, sensual trouble. He never backs down from a fire or a dare and he loves putting it all on the line when he parachutes into the heart of the fire. When the fire camp gets a much-needed new player, however, Rio lands in uncharted territory. The jump team's newest member is sexy, strong—and female. She's supposed to be just one of the boys, but Rio burns to claim her one heated kiss at a time. This jump, Rio Donovan's putting it all on the line. Body and heart.
INTO THE FIRE… AND INTO LOVE
Kissing a fellow smoke jumper would be career suicide and Gia Jackson has worked too hard and too long to earn her spot on Strong's jump team to jeopardize it all now for a man. The love-em-and-leave-em boys of summer aren't her type and she's hiding a few secrets of her own, but, when her chute tangles with Rio's on a jump, he's thrown into her arms. Literally. She's held firm on the fireline for years—but can she hold the line now against Rio's seductive charm?