Take Me Out
by Elley Arden, Alicia Hunter Pace, Leslie P. Garcia, Bea Moon
The crack of the bat, the roar of the crowd . . . Four rising star authors celebrate the love of the game with these sweet and seductive baseball romances.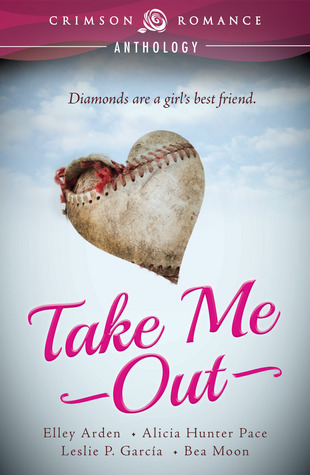 In Trade Off by Elley Arden, Scarlett and Ben used to be High School sweethearts. Afterwards, Ben went off to pursue his baseball career, while Scarlett went to college to become a successful marketing executive. Now many years later they just happen to run into each other in a hotel elevator. Ben is on his way to train, even though he is thinking about retiring after they traded him off, and Scarlett is on her way to an important meeting.
Neither of them has been able to find the same kind of love they used to share, and neither has gotten married yet. This may be their second chance at having what they let go so many years ago. But in Ben's eyes Scarlett has to be willing to trade off her Fortune 500 success, while in her eyes he will have to trade off the fame and all the women to settle just for her. Something neither of them is sure of until they learn what they both really feel deep inside.

In Slugger Gone South by Alicia Hunter Pace, Marc and Bailey fell in love back in high school and were engaged by the time they were 20 and in college. But a scandal and lie tore them apart.
Now many years later, Bailey has agreed to be the nurse for her friend's golf tournament. She doesn't want to be there, but no one can say no to her friend. Unfortunately, her ex-fiancé and now major league ball player Marc has been invited to the tournament. When she finds out she immediately starts thinking up excuses to leave and people who could take her place, but unfortunately there is no one available at the moment.
Marc has not forgiven Bailey for not giving him a chance to explain what really happened. She just left their apartment and broke their engagement without talking to him first. Even after many years he still feels something for her, but he won't let her know that and he will use any opportunity he can to make sure she knows what she left behind.
But what they both believe will be a one time meet soon turns into two when Bailey has to go to the charity dinner too. Only to have a thunderstorm bring Bailey's old fears to the front, and Marc the only person to help her and calm her. This is their only chance to talk and maybe their second chance at true love.
In Safe at Home by Leslie P Garcia, Amanda is desperate to save her father's struggling business, but since it's a sports store she needs a star to help her. With that in mind she approaches Josh, a major league baseball player.
Only their meeting doesn't go as planned, she had thought to approach him and ask for his help. But some of his fans were there, and the girls were very seriously propositioning him to the point of showing their breast bared for an autograph and the guards were on their way to remove them from there. In the confusion when she tried to approach him, the guards were manhandling her and she ended up showing some of her own breast accidentally, not only that she also lost her purse. Something that is not uncommon with her.
When Josh sees the purse he first thinks about giving it to the guards to return, but some impulse has him taking it and trying to deliver it personally. So he finds her address and takes it to her home, but since she is not there he ends up at the store. Where he finds out her real reason for going to see him and who she really is. And even though he will help her, it will be on his terms, and Amanda has to date him, a baseball player, something that she just doesn't do.
With a little persuasion and patience, Josh may just find out the reason behind Amanda's dislike for sports players. And help her find the happiness and balance that she needs in her life.
In That Ol Team Spirit by Bea Moon, Trish and Rob dated back in high school, but when they had a fight and Rob decided to take another girl to prom, that was the end of their relationship for Trish.
Now years later Trish helps her grandmother with a concession stand at the baseball stadium. Strange things keep happening there though, she believes that it could be just kids pulling a prank on her, but her grandmother believes that it could be the ghost of Lefty trying to communicate with her.
When one day Trish is summoned by her grandmother back to the stadium for help, Trish believes that something really bad happened. But she soon finds out that her grandmother has decided to do a séance and has invited Rob.
Since Rob is a reporter, he doesn't really believe in ghost or séances, but when strange things start happening in front of their eyes, Trish and Rob will have to rethink their views on ghosts. While at the same time solve the 50-year-old murder mystery, that with Trish's grandmother as a key witness, rules out the police's report of suicide and bring up the possibility of murder to uncover.
Now Rob and Trish will have to work closely together to bring peace to a spirit by bringing the truth to the light. But all this time together will make them doubt their old decisions and make them wonder if just maybe this is their second chance at the love they let go so many years ago.
Book Info

Published: October 28th 2013 by Crimson Romance
The crack of the bat, the roar of the crowd . . . Four rising star authors celebrate the love of the game with these sweet and seductive baseball romances.
Trade Off by Elley Arden: Traded and jaded, catcher Ben Border is considering stepping out from behind the plate. Then he runs into former flame Scarlett Dare. Turns out the sexy marketing executive still sends him into a fever pitch. But is she willing to trade Fortune 500 success for a happily ever after?
Slugger Gone South by Alicia Hunter Pace: When New York Yankee Marc MacNeal comes to Merritt, Alabama, for a charity golf tournament, he's shocked to be reunited with his ex-fiancee Bailey Watkins. It could be the perfect chance to get some long-awaited closure—or the start of a whole new ball game . . .
That Ol' Team Spirit by Bea Moon: Someone's haunting the Sharks' stadium and creating some major league mischief. So psychic Peg Noonan and her granddaughter Trish are determined to discover who's menacing their concessions stand. With the help of Trish's high school love, sportswriter Rob Hanks, they just might have a ghost of a (second) chance.
Safe at Home by Leslie P. Garcia: Amanda Warner hates baseball, but knows it'll take a swing for the fences to save her dad's hardware store. Hoping his star power will bring the crowds in, she sets her sights on Scorpions' All-Star Josh "Hotstuff" Arrevalos brings unexpected surprises. But is her heart ready to play ball again?