Sydney Somers authored Busted, the third book in The Promise Harbor Wedding series. I was lucky enough to read both the first and second books of the quadrilogy, which provides me with a  little more insight into the storylines.  Each book is told from a different character's point of view and the third book is written from the perspective of Hayley Stone, friend of the bride (Allie) and hometown girl.  Hayley knows the bride very well because she is the best friend of Allie's former boyfriend Gavin. The prologue of Busted recounts the "almost wedding day" of Josh and Allie as Hayley sees it unfold.  Each book may be read as a stand alone or as part of the series.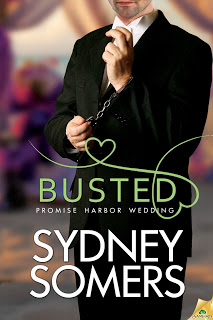 Since high school Hayley Stone had a crush on Jackson Knight. They even shared a kiss when she was seventeen and she still carries a torch for him.  Jackson Knight, a hockey superstar and the town's golden boy, returns home to attend the wedding of his best friend Josh.  He is aware of Hayley through her brother Matt, another best friend from childhood.
As a teenager Hayley was always in trouble, causing trouble or just plain defiant.  Now she is a detective for the local police department.  The small town of Promise Harbor has witnessed her metamorphosis.  How ironic that she chose law enforcement as her career.  Jackson was very popular in high school and the girls loved him.  Now, all the women love him.  Due to an accident, his career on the ice ended and now he is seeking a coaching position.  The paparazzi continue to harass him, even though he is no longer in the spotlight.
Hayley and Jackson have a few run ins and end up sharing a special moment or two.  Jackson begins to have feelings for Hayley.  However, Hayley has a lot going on in her life including an ongoing robbery investigation, a very sick grandfather and house renovations.  She is having trouble keeping everything together, along with her renewed feelings for Jackson.  Both are seeking love, security and a place to call home.
It is unfortunate that many of the storylines from the earlier two books are rehashed in the first half of this book.  Thus, I found the first half of Busted mediocre and difficult to read through.  I would have loved this book if I hadn't read the first two in the series.
The second half of Busted is amazing!!  The characters spring to life and their stories are told with emotion, angst and love. Sydney Somers writes very hot, sensual love scenes that leave the reader craving for more.
Book Info
His game… Her rules.
Promise Harbor Wedding, Book 3
Hockey star Jackson Knight has a hundred reasons not to return to Promise Harbor, but none of them are good enough to get him out of attending his best friend's wedding. Even with a career-ending knee injury, every puck-bunny in town will be gunning for him.
Worse, getting a pair of cuffs slapped on him at the bachelor party could ruin any chance of getting back in the game, even as a coach. Unless he can convince the arresting officer to smooth things over—by going to the wedding as his date.
Hayley Stone figures posing as Jackson's girlfriend is the least she can do to salvage his reputation. Plus, having a man with a toe-curling smile on her arm will keep her ex off her back.
What starts as a simple plan to deflect small-town pot-shots unexpectedly becomes a sizzling night that hits Jackson like a full-body-check to the heart. Now he's determined to prove that she's the best reason of all to come home—for good.
Warning: Contains a fiery powerplay both on and off the ice, skin-tingling forced intimacy, interfering grandparents, bear costume hijinks, a haunted house and the kind of game-changing chemistry worth fighting for.