A Bad Boy is Good to Find is the first book I have read from Jennifer Lewis. I enjoyed the beginning of the story very much. It opened with a love scene that felt real and palpable without the benefit of knowing many details or historical information about either Lizzie or Conroy, the two title characters. I immediately felt their sizzle for each other in the way the author described the scene.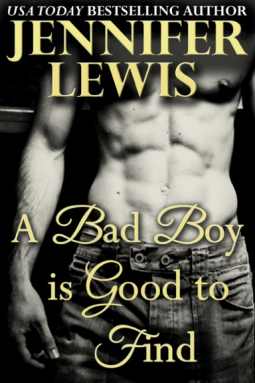 Lizzie is an heiress. She lives in NYC and her life has always been fodder for the paparazzi. She finds out that her father lost all her money and is being indicted for fraud. Her boyfriend Conroy, a mysterious mechanic, definitely cares for Lizzie and wants to marry her. Of no surprise though, he wants to marry her for the promise of a cushy future. Once he finds out she is no longer wealthy, the relationship ends and Lizzie goes a little nuts. Lizzie is now penniless and has been deserted by both her family and Conroy.
Conroy feels guilty for Lizzie's present state of drunkenness and inability to deal with life, so he kidnaps her in order to set her on the right path for the future. Lizzie is certainly not happy about this and seeks revenge.
Lizzie's life and subsequent downfall, is big news for a local cable station that her cousin works for. In exchange for a payout, Lizzie and Conroy agree to get married on TV. Thus, they will both be better off financially.
The story continues along with their relationship development, antics and eventual wedding.
Book Info
Publisher: Mangrove (March 27, 2013)
A Bad Boy is Good to Find begins the way most romances end, with kisses, caresses and professions of love. But when New York heiress Lizzie Hathaway finds out the man of her dreams is only after her money—which her father just lost in a publicized scandal—she knocks him unconscious with a champagne bottle, and runs off.
Conroy Beale may be a little wayward, but he's not heartless. When his quiet, studious Lizzie goes on a dangerous partying binge, he tracks her down, kidnaps her, and forces her to dry out. Lizzie wants revenge on everyone, including Con, and he reluctantly agrees to go along with her scheme to exploit her unwelcome notoriety for money.
Her plan explodes in her face when she drags Con and a camera crew back to the Louisiana swamp he's been running from all his life. Now Con must confront the pain he tried to escape, Lizzie fights feelings that don't follow any script, and there's that troublesome attraction that threatens to boil the bayou…