By Her Touch by Adriana Anders is beautifully written, giving readers an emotional read filled with vulnerable characters, deep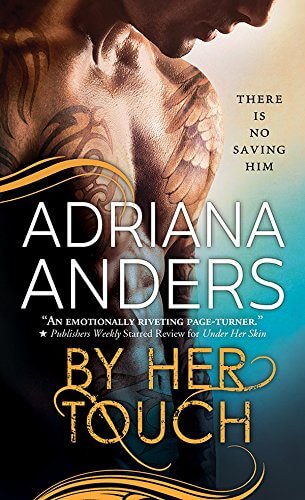 attraction, and a love that reaches beyond the surface.
Clay Navarro is an undercover cop whose job was to go deep into cover and join a dangerous biker gang. He barely made it out of there with his life. He ended up shot, more tattoos than he wanted, and a memory of all the things he had to endure and all the acts he was forced to perform. To say his life is complicated, is putting it lightly. He tracks down a doctor who will remove the more brutal tattoos from his skin, but he ends up getting more than that.
Dr. Georgette Hadley is a little overwhelmed when Clay shows up at her office. First, Clay is a big man who has tattoos all over his body. He doesn't offer up any information and she is left guessing that he was in jail and later finds out on her own that he was in a gang. She knows she shouldn't get too close to this man, but she can't help herself. There is something about him that calls to her. George needs to remember that he came to her for a reason, but he is a beautiful distraction, that is making it hard for her to stay professional.
"Give me a kiss," he demanded, and as she watched he softened, his gaze running a tender path from her lips to her eyes and back again.
"Please kiss me."
Clay was a wonderful character who has so many aspects to him. He's a good guy despite whatever he did undercover. He went undercover to revenge his sister, so I understand his reasoning for going that deep undercover. It wasn't easy and it blurred the lines a bit for him, to where he doesn't exactly know who he is anymore. Thankfully, being with the brilliant doctor shows him his true qualities and with her touch, he's able to gain more of his life back.
As for George, I loved her. I loved her in the first book and adored her in this one. George knows tragedy all too well, and her ability to help others is admiring. She knows that scars run deep, but she helps others remove the easily visible ones. Of course, in this book we get a more in depth look in George's life and why she is alone. George and Clay paired really well together and their journey was a happy one, despite everything they had to overcome.
This is book two in the Blank Canvas series and just as amazing as the first book was. For those who enjoy living in the emotions the characters are going through, I would highly recommend this author.

Book Info:

Publication: April 4th 2017 | Sourcebooks Casablanca | Blank Canvas #2
He Will Always Bear the Scars
Undercover cop Clay Navarro left the Sultans biker gang a changed man. Its ringleaders may be awaiting trial, but he wears the memory of every brutal act he was forced to commit tattooed across his skin. He doesn't have space in his messed-up life for anything gentle–not now, maybe not ever.
Dr. Georgette Hadley is drawn to the damaged stranger's pain, intimidated but intrigued by the warmth that lies beneath Clay's frightening exterior. But when the Sultans return looking for revenge, she finds herself drawn into the dirty underbelly of a life forged in violence…that not even her touch may be able to heal.