In One Good Thing (Ten Beach Road #5) by Wendy Wax, Friends Kyra, Nikki, Maddie, and Avery had the best of intentions when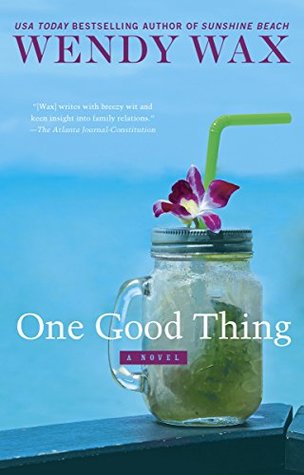 they started their renovation projects in a small town on the gorgeous Gulf Coast of Florida. But the ensuing problems they've had with the network who took over rights to their documentary footage is now causing no end of headaches. As the four women try to battle their way through the legalese that is being thrown at them, they each have dilemmas of their own to face.
'Happiness, if it came, had always been fleeting, not something she'd ever managed to hold on to. How on earth was she supposed to believe that this time would be different?'
Nikki is an emotional mess while pregnant with twins in her late forties and all the health worries that come along with it. But it's nothing compared to her doubts about motherhood itself. Maddie finds herself wanting to be there for her friends but knowing she needs to break free and take time to nurture her relationship with Will. Maddie's daughter Kyra is in a financial bind that the other women are unaware of. But the truth will undoubtedly come out when she least expects it. And Avery is stuck between her boyfriend Chase and his rebellious teenager. Thank goodness the ladies have each other to lean on when things get tough or else they'd all be in trouble.
'Listening to others and offering advice was so much easier than examining your own feelings and issues, especially when they were as muddled as hers seemed to be.'
One Good Thing was quite the mix of issues, emotions, and (eventually) solutions for our four main characters: Maddie, Avery, Nikki, and Kyra. With a HFN ending, friendship and tenacity was what ultimately paved the way, along with some good old perseverance.
I've been meaning to start this series for some time now after hearing all the buzz about it online. And I can see why readers are drawn to these books. Wendy Wax has a lovely writing voice–one that is easy to read but is certainly not lacking in depth of emotion. I think what I enjoyed most, though, aside from the beautiful background descriptions of the Florida Gulf Coast, was Wax's character building.
Each of the four women, along with a few other secondary characters, were at different stages in their lives. And it was interesting to see how they changed and grew as individuals and as friends while they each worked through their issues. I loved that Wax showed how they all benefited from their friendships and how much the ladies needed each other in their lives for support and at times a shoulder to cry on.
For some reason, I seemed to connect most with Maddie and Avery. I thought they were both very compassionate women who took their responsibilities seriously but who wanted to have a chance to enjoy life. Kyra was a solid character as well and I understood her concerns over what her baby daddy Daniel was up to. I may not have condoned her relationship with him (he's in an unhappy marriage) but at least Kyra was trying to lay down the law with Daniel. And then there was Nikki. Boy, she had her hands full while carrying twins later in life and trying to help her friends with their joint venture. I think some readers may get a bit tired by the end of the book with her 'woe is me' attitude and how she complained. A lot. I thought the majority of it was done in a dry, comical manner so I laughed most of it off. But I *was* very happy when her attitude finally improved!
A heartwarming story that proved how resilient and strong women can be when they band together, One Good Thing will certainly strike a chord with most readers. Between the intriguing characters and their beautiful little beachside community, this will be a great book to enjoy outside as the days grow warmer.
Book Info:

Publication: April 25th 2017 | Berkley | Ten Beach Road #5
From the USA Today bestselling author of Sunshine Beach, a story of four women trying to rebuild more than their lives…
Before you can fix it up, you might have to tear it down…
Embroiled in a battle to regain control of their renovation-turned-reality TV show, Do Over, Maddie, Avery, Nikki, and Kyra find themselves holding tight to the frayed ends of their friendship and relationships.
Maddie must face the realities of dating a rock star once again topping the charts and deal with her hapless ex-husband, while Avery is caught up in family drama even as she attempts to transform a tiny cottage into a home for the newly impoverished heiress who helped bankroll their last renovation. Put on bedrest, a hugely pregnant Nikki can't quite believe love can last, or trust in her own maternal instinct. And Kyra, who has secretly put Bella Flora at risk in an attempt to salvage Do Over, must decide whether to accept a desperately needed bail out from her son's famous father that comes with far too many strings attached…
But friendship is made for times like these, to keep each other—and their dreams—from crumbling.
From the Trade Paperback edition.