Call to Engage by Tawny Weber: The past happened and all you can do is to move forward. However when confronted with your past,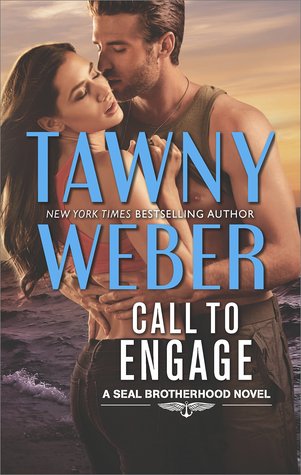 that's a whole lot easier said than done.
Ava Monroe knew about that. She had married, she had lost and she had dealt with it, right? Except when she runs into her ex husband, then she isn't really as sure. She is a different person though now. She is stronger and wiser now. She can deal with this and anything he throws at her.
Elijah Prescott was a SEAL, he could do anything that he wanted to. He was strong enough to fight his way out of the situation, well anything physical that is. Faced with his ex wife and their history that's something that he just can't figure out how to deal with.
When things get complicated and even involve national security Ava and Elijah have to figure out how to deal with not just their past relationship but their future as well. Throw in a crazy terrorist and all heck will break loose.
Wow, this is a continuation of a fantastic series by Ms. Weber. She has taken her SEALS and done this amazing story line that manages to make you cry, make you smile and make your heart turn inside out. Everything is described in vivid detail, perfectly balanced dialogue and internal thoughts. This story will break your heart into a million pieces but before the story ends it will be rebuilt even stronger than you can imagine. There are not enough good things to say about this novel. Get it, read it, love it.

Book Info:

Publication: June 27th 2017 | Harlequin Books | Team Poseidon #2
The Poseidon team are hard-bodied, fiercely competitive Navy SEALs. But when a sensitive mission goes disastrously wrong, three of the team's finest will have to trust their hearts and instincts to uncover the truth…
Lieutenant Elijah Prescott should be spending his precious leave somewhere with sun, surf and scantily clad women. Instead, he's heading home with two goals in mind. Figure out exactly how his last assignment went to hell and almost killed him—and reconnect with the woman who might offer salvation.
Ava Monroe has streamlined her life, eliminating every source of pain—including a marriage touched by tragedy. One glimpse of her ex and those good intentions turn to bad-girl desires. Her strategy: get over Elijah by getting under him again, sating herself until she can finally let go. But as betrayal within the rank of the SEALs turns deadly, there's no denying that her heart and her life are on the line. Elijah is the only man who can protect both…