Every now and again an author is able to write a book that you fall in love with, and engages you in such a way that even when you have finished reading, the story seems to live on in your soul. The Best Man's Baby by Victoria James is one of those kind of books. It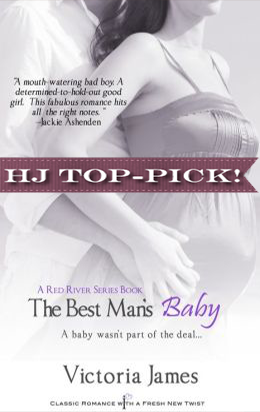 held my heart in a vise from beginning to end and I read it during every available spare moment. It is an amazing book and I recommend it highly.
Florist and good-girl Claire Holbrook has been in love with construction expert and tough guy Jake Manning forever. While Jake has been acutely aware of Claire's curves for at least half a decade. They both grew up in the same small town of Red River, she the virginal minister's daughter and he the son of two parents who did not love or want him. After the wedding of Claire's best friend Holly to Jake's brother Quinn, Claire and Jake spend a passionate night together. He leaves her bed in the wee hours of the morning and they have no contact until six weeks later, when Jake returns to town and Claire very publicly tells him she is pregnant.
As much as Clair cares for Jake, she does not want him to be with her because of the baby only. She wants the whole kit and caboodle, his mind, body and soul. As they begin to work through the logistics of their future, their feelings for each other begin to unfold and sizzle. However, trust is very difficult for Clair, while acceptance due to the truth of his past, is crucial for Jake's well-being and happiness. Luckily the ability of their respective families to be nonjudgmental and listen, ensures their happiness.
This story is filled with raw emotions from both main characters. When Claire cried, my heart was breaking with her. When Jake got emotional, my eyes teared. This story is the perfect combination of romance, intricate plot, angst and love. I will be anxiously waiting to read the third book in the series when it is released sometime this winter.
Book Info

Florist Claire Holbrook has always played by the rules her entire life, but breaks them to spend one night with sexy lone wolf Jake Manning, a man she's adored since she was a teenager. Six weeks later, things get complicated when she discovers they created a bond that will last a lifetime
Jake has never played by the rules. Getting Minister Holbrook's daughter pregnant wasn't part of any life plan, but he won't run from his responsibilities. He'll step up and be the best man he can, even if he doesn't have a clue where to begin. The more time he spends with Claire, though, the more he wants her, and the harder it is to get close, because that would mean sharing the one thing he hasn't with anyone–the truth and his heart.