Captive (Captive #1) by Brighton Walsh: Madison is the daughter of wealthy businessman and society wife. She is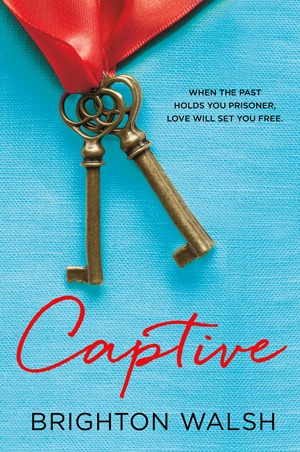 very intelligent and leads a privileged life, except she feels trapped into taking care of her alcoholic mother while her dad is always at work. Due to her intelligence and family wealth, she struggles to make friends. While she's incredibly unhappy with her life, she feels unable to make any changes.
Suddenly Madison's whole world changes when she's kidnapped. She has no idea where she is or why she was taken. Ghost, her kidnapper, is an intimidating man and seems to be in control of the situation. She doesn't believe his assurances of her safety and doesn't trust a man who kidnaps people as their job.
"Why me?" My voice was quiet, though I'd managed to get the tremble under control.

"I don't make the rules. I don't know why, and I don't really give a shit. I just do what I'm paid to."

"And it doesn't bother you? To-to do this, just for money?"
While Madison comes across as being very compliant, she actually discovers a will to live and backbone during her captivity. She surprises Ghost by challenging him in ways he never expected and as the days go by, they begin to realize they might not be quite the opposites they believed they were. Ghost, or Gage, grew up in a poor part of town and was responsible for his younger brother from a very early age.
"Yeah, I know what it's like. I mean, I've never lived in a fucking mansion, but I know what it's like to be dealt a shitty hand in the family department."

"How so?"

"Ah ah, tit for tat, princess. If I tell you, I expect the same."
Once they get to know each other, Madison begins to trust Gage and see him as her protector. The longer they are around each other, the more difficult it becomes not to act on this unwilling attraction. Opening up to each other also means that it's not just simple lust driving them. Madison brings out a very different side to Gage and Gage shows Madison just how beautiful she is.
Captive is an interesting tale of falling for someone very unexpected in an incredibly bad situation. Captive also features family dysfunction, greed gone wrong, and kidnapping as a job. Brighton Walsh used the kidnapping as a catalyst for both characters to actually grow as individuals. Ms. Walsh brought together two very different yet similar people in Madison and Gage for an interesting couple. Fans of Lauren Smith would enjoy Captive.
Book Info:

Publication: March 24th 2015 by St. Martin's Griffin | (Captive #1)
Madison Frost is desperate to escape her life. Daughter of a prominent businessman, she has everything a girl could ask for. Except for a family who's present in her life, and anyone to talk to outside the four walls of the prison she calls home. Madison dreams of one day leaving her life behind. She never thought being kidnapped is how it would happen.
Now she's being held captive by a man who's as frightening as he is sinfully gorgeous. Enormous, muscular, and filled with secrets, the man they call Ghost is an enigmatic mercenary, and Madison is trapped with him. She doesn't know who hired him or why, but the more time she spends at his mercy, the more she realizes he's not what he seems. Beneath his rough exterior lies an unexpected gentleness and a heart as broken and battered as her own.
But as Madison lets down her walls, Ghost holds tight to his, hiding secrets that could destroy everything.