In Carrie Soto Is Back by Taylor Jenkins Reid, Carrie Soto isn't bragging when she says she's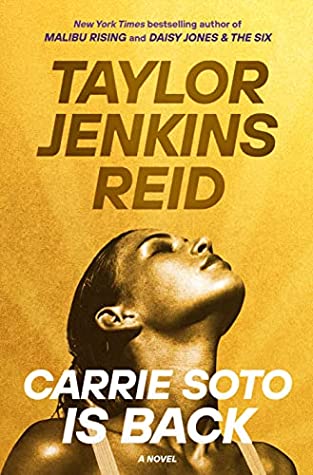 the greatest tennis player in history. Her record proves it. No matter what critics call her. No matter how she gets put down when women's tennis is compared to men's. And no matter what it's cost her. Carrie has earned every single one of her twenty Grand Slam winnings through blood, sweat, and tears. Since retiring at just under thirty years old, she's watched her accomplishments stand true. But now, not quite a decade later, her title as winning the most Slams is being threatened by tennis phenom Nicki Chan.
"You know you have a way of…grinding your opponents down. You know people have not always liked your way of winning."
"Next time I mop the court with someone, I'll remind myself to pretend I'm 'shocked that it went my way' and that it 'could have been anyone's game,'" I say.
With a plan to play one more season, at age thirty-seven, to secure her title, Carrie begins to train again in earnest. Her father, Javier–the man who raised her on his own and instilled in her a love of the game after his own professional career ended–is by her side yet again. Something that means the world to Carrie. And to Javier. As she struggles with everything from her body not functioning like it did in her twenties to the sports world badmouthing her to even having to train with Bowe Huntley, a man she swore she'd never get close to again, Carrie has the attention of the entire world. And she's determined to show them all just what she's made of.
"I'm here to win, so…anything you got, I'm listening." My father's face lights up. And I'm happy for him, to be back here doing this job that he does so well, this job that defined him for as long as I can remember. This is not just my comeback.
Carrie Soto is Back was Taylor Jenkins Reid at her best. A stunningly epic novel about a female tennis player who was a force of nature–on and off the court–it was filled with larger than life character dynamics, personal struggles, and women breaking down gender barriers in a male-dominated sport.
"Go out there…" He looks me directly in the eye with an intensity I have not seen in years, maybe even since I was a kid. "And show them that the Bitch, the Battle Axe–whatever they want to call you–it doesn't matter. They cannot stop you. And they don't get to decide what your name is. Carrie Soto is back."
Trigger warning: View Spoiler »Cheating, sudden death of a parent. « Hide Spoiler
Taylor Jenkins Reid's storytelling is always on point. I know that no matter if I like all of the characters or the subject matter, it will be a fascinating novel with insightful observations and deep, genuine emotions. And with Carrie's story (which TJR began back in Malibu Rising with her connection to Nina Riva's husband Brandon Randall) there was so much more to her than the public knew. Fiercely private and insanely talented, Carrie was a combination of lost little girl and unapologetic athlete. Dubbed the "Battle Axe" for her court domination as well as her icy cool, unyielding persona, none of her fans or critics would have believed that she did have moments of doubt–or how lonely she felt at the top of her career.
I think Carrie's relationship with her beloved Papa, Javier, will be one of the reasons readers' hearts will soften towards her. Their bond was incredible and so very beautiful. They had their ups and downs over the years but they were quite the solid duo overall. I just adored how much Javier cared for his daughter and how he did the best job he could raising her on his own. They communicated through tennis, basically: his coaching Carrie and in turn, her hard work. What they achieved together was nothing short of amazing. But it was their personal relationship, how much they cherished each other that made me smile.
The other part I think readers will love is watching Carrie figure out who she was outside of tennis. *And* also who she was in her late thirties as an athlete. It was quite a difficult road for her. She was pretty much fearless on the court but her personal life was a different story. While there were plenty of times I shook my head at her ego or how she pushed someone away, seeing Carrie finally put in the effort in her personal life, not just on the court, was a wonderful thing.
QOTD: Have you read any of Taylor Jenkins Reid's work? Do you have a favorite book or character? Let us know!
Book Info:

Publication: August 30th 2022 | Ballantine Books |
In this powerful novel about the cost of greatness, a legendary athlete attempts a comeback when the world considers her past her prime—from the New York Times bestselling author of Malibu Rising.
Carrie Soto is fierce, and her determination to win at any cost has not made her popular. But by the time she retires from tennis, she is the best player the world has ever seen. She has shattered every record and claimed twenty Grand Slam titles. And if you ask Carrie, she is entitled to every one. She sacrificed nearly everything to become the best, with her father, Javier, as her coach. A former champion himself, Javier has trained her since the age of two.
But six years after her retirement, Carrie finds herself sitting in the stands of the 1994 US Open, watching her record be taken from her by a brutal, stunning player named Nicki Chan.
At thirty-seven years old, Carrie makes the monumental decision to come out of retirement and be coached by her father for one last year in an attempt to reclaim her record. Even if the sports media says that they never liked "the Battle-Axe" anyway. Even if her body doesn't move as fast as it did. And even if it means swallowing her pride to train with a man she once almost opened her heart to: Bowe Huntley. Like her, he has something to prove before he gives up the game forever.
In spite of it all, Carrie Soto is back, for one epic final season. In this riveting and unforgettable novel, Taylor Jenkins Reid tells her most vulnerable, emotional story yet.