Today, HJ is pleased to share with you

Kate Bateman's

new release: 

A Daring Pursuit

The Davies and Montgomery families have been locked in an ancient feud. But it's a thin line between love and hate in Kate Bateman's A Daring Pursuit.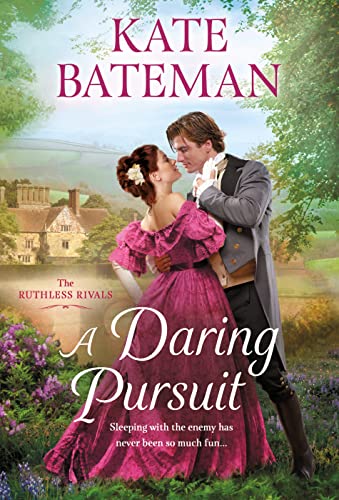 TWO ENEMIES
Carys Davies is doing everything in her power to avoid marriage. Staying single is the only way to hide the secret that could ruin her—and her family—if it was revealed. For the past two seasons she's scandalized the ton with her outrageous outfits and brazen ways in a futile bid to deter potential suitors. Outwardly confident and carefree, inside she's disillusioned with both men and love. There's only one person who's never bought her act—the only man who makes her heart race: Tristan Montgomery, one of her family's greatest rivals.
ONE SCANDALOUS BARGAIN
Wickedly proper architect Tristan needs a respectable woman to wed, but he's never stopped wanting bold, red-headed Carys. When she mockingly challenges him to show her what she's missing by not getting married, Tristan shocks them both by accepting her indecent proposal: one week of clandestine meetings, after which they'll go their separate ways. But kissing each other is almost as much fun as arguing, and their affair burns hotter than either of them expects. When they find themselves embroiled in a treasonous plot, can they trust each other with their hearts, their secrets…and their lives?
Enjoy an exclusive excerpt from A Daring Pursuit 
From A Daring Pursuit by Kate Bateman. Copyright © 2022 by the author and reprinted by permission of St. Martin's Publishing Group.
Chapter Two
Tristan Montgomery tried very hard to keep his attention on his best friend, James Sinclair, and not on the scandalous appearance of Lady Carys Davies on the opposite side of the ballroom.
The merest glimpse of her, standing like some semi-clad goddess at the top of the stairs, had been enough to stop his heart and send a hot flare of outrage—it was definitely outrage—sweeping through his body.
He'd spent a large part of his twenty-seven years perfecting the art of ignoring her, of appearing cool and indifferent to her inflammatory presence when his entire being prickled with awareness whenever they were in the same room.
He gave in to the temptation to look again.
Who was she supposed to be, for God's sake? Lady Godiva?
Her dress was as sheer as a whisper, as if Botticelli's Venus had stepped out of her giant
shell and donned a chemise made of spiderwebs. She might as well have been naked, for all the coverage the material provided. Her breasts, shimmering with silver-flecked powder, rose above the daringly low neckline like an offering to the gods.
What were her brothers thinking, to allow her to expose herself in public like this? There wasn't a man in the entire ballroom who wasn't wondering what it would be like to inspect those incredible curves at closer range.
Tristan fought the urge to push his way through her throng of admirers, throw a cloak around her near-naked shoulders, and bundle her out into his carriage.
Quite what he'd do with her then, he didn't know.
Spank her for her foolishness, probably. Someone needed to take the girl in hand.
Heat rose on his skin and he curled his fingers into a fist.
No. No spanking. Bad idea. Touching her would be a terrible mistake. He wouldn't lay a hand on her. He would simply give her a strongly worded dressing down.
That was such a stupid phrase. Dressing down. What did it even mean? She was only wearing a few scraps of muslin. If she dressed down any further she'd be naked—
"Tristan, are you even listening to me?"
James's amused tones finally penetrated his racing brain. "Sorry. I was just marveling at that red-haired hellion's nerve." He made a disapproving clucking sound with his tongue. "Her brothers give her far too much leeway."
"Yes, it amazes me that she and Frances are such friends. They're complete opposites."
Tristan frowned. Carys's deep-red hair was decorated with what looked like a swarm of metallic bees. Her freckled nose was too small to balance out the generous width of her smile, and her green eyes flashed as she tossed her head back and laughed at something Frances said.
His chest tightened unpleasantly.
"I'd like some time alone with Frances," James murmured. "Can you keep Carys company while we're gone? I'll meet you back in the cardroom in fifteen minutes."
Tristan suppressed a groan. Dear God, the last thing he wanted was increased exposure to the woman. It was hard enough pretending he wasn't aware of the precise moment she walked into a room. Hard enough to keep his hands by his sides, or holding a glass, when all he wanted to do was touch that glorious molten hair to see if it would singe him as much as the clash of their gazes did.
He knew it would and playing with fire was such a mistake.
He sent James a resigned smile. "Of course."

Carys gazed across the crowded ballroom, trying to locate Howe, and found him deep in conversation with Lord Holland, a Whig politician known for his radical political views. The sight of him turned her stomach, but she wasn't due to meet him until just after midnight, so she still had a little time to enjoy herself.
Frances excused herself to go to the powder room, and Carys scanned the room again, looking for Tristan. She'd lost sight of him in the crush. She spotted his aunts, Constance and Prudence, seated near the entrance to the cardroom, but Tristan wasn't with them.
And then her heart leapt into her throat as his deep voice rumbled directly behind her.
"The cost of your wardrobe is legendary, Lady Carys, but I can't imagine you paid much for that outfit. There's hardly enough material there to make a handkerchief."
How on earth had he managed to sneak up on her, the devil?
She turned and found him half hidden behind a pillar, one eyebrow raised in question, and willed her heart rate to calm to a healthy level.
"As a matter of fact, this is the most expensive dress I've ever worn."
"That cannot possibly be true."
"Oh, it is." Wickedness seized her. She stroked the fabric that ran over her shoulder and watched in delight as his eyes followed the movement. She slid her fingers down, skating over the dangerously low neckline of the dress.
He swallowed.
"This is one of the most costly materials ever made," she purred. "It comes from Bengal. Most muslin has three or four hundred threads per inch, but this has over a thousand. It's so fine, a bolt of it can be pulled through a wedding ring."
She leaned a little closer. "I heard a story that a Mughal emperor once berated his daughter
for appearing naked in public when she was, in fact, wearing seven layers of this."
Tristan lifted his gaze and his eyes clashed with hers. Her heart missed a beat.
"How many layers are you wearing?"
She opened her eyes wide in faux innocence. "Me? Only five."
A muscle twitched in the side of his jaw and she bit the inside of her lip to stop herself from laughing. Seeing how far she could push him was so much fun.

From A Daring Pursuit by Kate Bateman. Copyright © 2022 by the author and reprinted by permission of St. Martin's Publishing Group.
Excerpt. ©Kate Bateman. Posted by arrangement with the publisher. All rights reserved.


Giveaway:

One copy giveaway copy of A Daring Pursuit, US Winner Only
To enter Giveaway: Please complete the Rafflecopter form and post a comment to this Q:

What did you think of the excerpt spotlighted here? Leave a comment with your thoughts on the book…
Meet the Author:
Kate Bateman, (also writing as K. C. Bateman), is the #1 bestselling author of historical romances, including her RITA® nominated Renaissance romp, The Devil To Pay, the Bow Street Bachelors series (This Earl of Mine, To Catch an Earl, and The Princess and the Rogue), along with the novels in the Secrets & Spies series (To Steal a Heart, A Raven's Heart, and A Counterfeit Heart). When not writing novels that feature feisty, intelligent heroines and sexy, snarky heroes you want to both strangle and kiss, Kate works as a fine art appraiser and on-screen antiques expert for several popular TV shows in the UK. She splits her time between Illinois and her native England. Follow her on Twitter to learn more.
Buy Links: Amazon | B&N | BAM | Bookshop | Indiebound | Powells |