Carrying the Greek Tycoon's Baby by Jennifer Faye: One island, lots of money needed and one business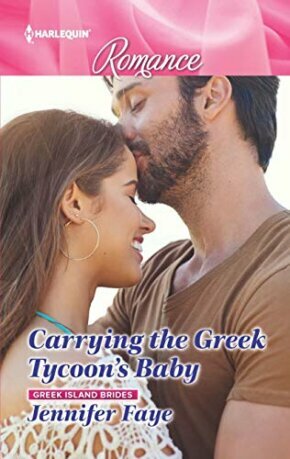 trip… what can come of this mess?
Lea Romes wasn't sure what she got into. After finding out that her family had lied to her her entire life, causing her to miss out on meeting family who had since passed, that was just one step to many. Now with a lot of questions and a lot of more unexpected problems the future is very uncertain.
Xander Marinakos was used to being on the top of the world. He had been striving for acceptance and stability pretty much his whole life. Now things were going his way. He was getting closer with his sister and his business was thriving. One business trip though and everything changed.
Will one business trip change the course of two peoples lives forever? Will they be able to see past the money and see into the future and what could be? Is it about dollars or love?
Ms. Faye's books are always a pleasure. They are filled with love and sweet romance, but not the heat. They are a genuine pleasure to read for anyone who is looking for a happily ever after that is filled with a pleasurable trip, in this case to the Mediterranean, and a fulfilling series of dialogue and commentary. This is a wonderful sweet read.
Book Info:

Publication: March 1st 2019 | Harlequin Romance | Greek Island Brides #1
From one night…
To nine months!
In this Greek Island Brides story, for jaded tycoon Xander Marinakos, renowned wedding destination Infinity Island is just another opportunity to expand his empire. Until he's captivated by its beautiful owner, Lea Romes… When their one night together has unexpected consequences, Xander must negotiate the deal of a lifetime, and put his guarded heart on the table to convince independent Lea they can be a family…for infinity!