Today it is my pleasure to Welcome author
Season Vining
to HJ!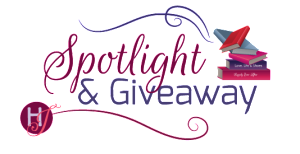 Hi Season and welcome to HJ! We're so excited to chat with you about your new release, Fearless & Falling!

Hi there!

Please summarize the book for the readers here: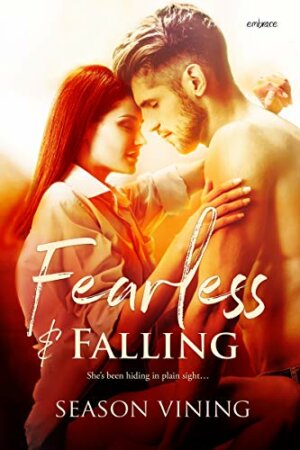 Fearless & Falling is a companion book to Chaos & Control (Dec. 2017). It tells the story of Angela, a waitress at the small town's diner, who has been in love with Logan Sawyer since she was in third grade. She's always felt invisible. After years of feeling that way, she decides to give destiny a shove and land the man of her dreams. Though, sometimes the perfect man is not so perfect.

Please share your favorite line(s) or quote from this book:
"Fluff your boobs, he's coming."

This is spoken by Angela's very-extroverted best friend, Audrey.
Please share a few Fun facts about this book…
There are BIG pieces of my real nerd-life in this book. From Doctor Who to Ghostbusters, there are many fandoms represented from both main characters. And it's just enough for them to find some common ground. Every one of my novels also has some kind of reference to the television show Supernatural. #TeamDean
This book went through so many title ideas. Since it was connected to Chaos & Control, I wanted it to have that same feeling. There were SO MANY "This & That" options before we settled on Fearless & Falling. (Shout out to my fiancé who cleverly offered Tractors & Tragedy. But, no.)
What first attracts your Hero to the Heroine and vice versa?
Angela develops a crush on Logan when they argue about the best female superhero way back in third grade art class. He tells her she looks like Black Widow and she falls instantly. Logan takes a while to come around. It's not until they're all grown up that he notices the pretty redhead waitress and her flirting.
Did any scene have you blushing, crying or laughing while writing it? And Why?
Any scene with Audrey had me laughing out loud. I would just try to think of the crudest thing that no normal person would say, and give her that line. She's just that kind of person. She will say and do anything. Nothing is off the table.
Audrey stands up tall and she raises both hands in the air. "Holy hell, you guys totally got it on." Her voice is so loud in the quiet diner that my cheeks burn from embarrassment.
"Do you even have an inside voice?" I ask, turning away from her, only to find Logan laughing from his place at the counter.
"Was it good? Did he treat your kitty right? Are you sore?"
"Audrey!" I busy myself wiping down the counter in front of me while she takes off. When she passes Logan, she doesn't say a word, just holds up a hand. He slaps her a high five and she cackles her way to her next customer.
I make my way over to Logan. "With friends like you guys, who needs enemies?"
Audrey returns. She laughs when she sees my face.
"Your cheeks are pinker than—"
I clamp a hand over her mouth. "Please don't finish that sentence. It's too early for genital references."
Readers should read this book….
with a sense of vulnerability and with memories of their first crush fresh in their minds.
What are you currently working on? What other releases do you have in the works?
My current WIP is a RomCom. It's my first attempt at writing this genre, but it has been a blast! With two releases already on the books this year, I'm going to focus a bit on having more tea parties with my three-year-old and working in more time for my favorite thing—reading!

Thanks for blogging at HJ!
Giveaway:

A signed copy of Fearless & Falling. U.S. only.
To enter Giveaway: Please complete the Rafflecopter form and Post a comment to this Q:

Where would your life be if you ended up with your FIRST crush?
Excerpt from Fearless & Falling:
"Very good, Angela. What a lovely drawing." Miss Berry places a hand on my shoulder and bends over my desk to get a better look. When she leans closer, I can smell strawberries. I guess it's her shampoo or something, but I
love how she smells like her name.
"Thank you." My voice barely a whisper, eyes still glued to my drawing.
"Who is it?" she asks.
My head snaps up and I check her face for seriousness. "That's She-ra." I pause and wait for any sign that she recognizes the name. Nothing. "Princess of Power? He-Man's twin sister?"
"Oooooh. Okay. That's nice. You've got a real talent. Maybe next time you could try creating your own superhero."
Miss Berry pats my shoulder and moves on to the next student's desk. I nod and finish coloring in She-ra's gold boots.
"She's the best superhero ever," I finish.
"No way." I looked up to find a boy with shaggy brown hair and blue eyes shaking his head.
"Yes way," I argue.
"No. Wonder Woman is the best girl hero ever." He pulls out the chair next to me and takes a seat. "She's got boots and Amazon bracelets that stop bullets." He leans back in the chair and crosses his arms, smirking.
I narrow my eyes. I've never talked to Logan Sawyer, being a boy and all that. But I am eager to prove him wrong.
"So? She-ra has boots and she's super strong, and she can do flips."
Logan shrugs. "Big deal. Wonder Woman can beat up dudes."
My fingers grip my pencil tighter. "So can She-ra."
"Wonder Woman has a lasso."
"She-ra has a sword," I point out.
He scoots to the edge of his chair, leaning too close for comfort. His eyes are playful and that only makes me angrier. "Wonder Woman has an invisible jet," he sings.
I jump to my feet, knocking my chair over and glare down at him. "And She-ra has a flying freaking unicorn that talks!" I shout. "Beat that!"
The entire classroom goes quiet and I feel the fire in my cheeks. I right my chair and take a seat.
Logan just laughs and points to my drawing. "You're funny. And your drawing is cool. Looks like a comic book."
That makes me stop. "You like comic books?" I ask, feeling my anger drain away.
"Yep. My dad lets me read his old ones. My favorite is Ghostbusters and Spider-Man."
I blow out a breath and give him a huge smile. "I like The Avengers."
He tilts his head before reaching out and tugging on a lock of my red hair. "You kind of look like Black Widow."
With that, Logan Sawyer saunters back to his desk. I stare down at my drawing and then at Logan's back in awe—thinking about how I've never gotten such a compliment in all my life.
Excerpt. © Reprinted by permission. All rights reserved.


Book Info:
Angela Lavelle has been in love since third grade. A heated argument over superheroes left her reeling in the wake of Logan Sawyer and his charming, know-it-all smile. After a lifetime in the same small town, this art geek still feels invisible to the guy she knows is destined for her. Finally, Angela is ready to give destiny a shove.
Logan Sawyer is adored by the whole town, even taking a place next to his father as a sheriff's deputy, with aspirations of becoming a detective. When a certain redheaded waitress finally catches his attention, he wonders how he's been so blind to Angela hiding in plain sight. But there's the mysterious circumstances of her father's death tugging at Logan's detective instincts. Could Angela be the one to break the case wide open? Or will their secrets destroy any chance at a happily-ever-after?
Book Links: Book Links: Amazon | B&N | iTunes | kobo | Google |


Meet the Author:
SEASON VINING grew up in southern Louisiana where food, culture, and family mean everything. She has lived in Houston, San Diego, and NYC—all of them providing colorful experiences and tons of writing material. Her obsessions include live music, tattooed bad boys, vintage cars, and people who know the difference between their, there, and they're. To learn more, visit her online at www.seasonvining.com.
Website | Facebook | Twitter | Instagram | GoodReads |