In Next Door Knight (Man's Best Friend #2) by Nicole Flockton, all Caleb Bradshaw wants is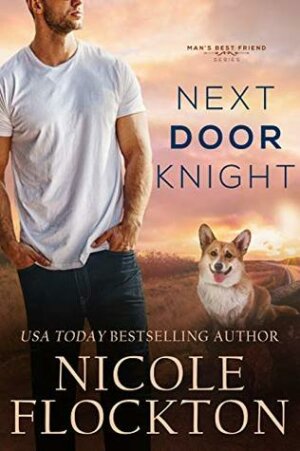 to be left alone, but it seems the neighbor's dog isn't going to allow that to happen. Even worse, when his gorgeous neighbor asks him for a favor to babysit her father, he finds himself agreeing since he doesn't have anything better to do. However, the more time Caleb spends around Kerry and her family, the more he finds himself enjoying the company, even that of her pesky dog Willow. Will Caleb and Kerry be able to help each other heal from their pasts or will they go their separate ways?
"Thank you. I know I should talk about him more. But it's hard."
Willow shifted her position and snuggled into the both of them, offering her silent support. "I have no doubt. Talking helps though."
Caleb sighed and his fingers drifted from the back of her head to her shoulder. "It's not easy to rehash defining moments in your past. It unlocks the 'what if' parts of your mind. What if I'd seen the flash of gun earlier? Perhaps I could've ducked and Trigger would still be with me. What if I'd gone in a different direction?"
Having absolutely enjoyed the first book of this series I couldn't wait to read more of Ms. Flockton's Man Best Friend series and I've got to say that this book was even better than the first. Really, it's an entertaining and heart-warming tale of loss and love, which encompasses two wonderful main characters that help each other to heal from the wounds of their pasts. The way this story started had me sympathizing with the heroine, as she's got so much going on in her life and doesn't need anything to go wrong. However, it was from the moment the hero and heroine came face-to-face for the first time in this story where things really get interesting, as Caleb needs someone like Kerry in his life after all that he's been through.
As for the dialogue, it was intense and heartfelt due to the main characters back stories because the hero is grieving the loss of his K-9 partner while the heroine is struggling to move on from the horrible relationship she finally managed to untangle herself from. Is she free of that relationship for good or will it come back to haunt her? Will the heroine's dog be able to help the hero through his pain? However, this story wasn't all intense. Certainly, there were some very heart-warming moments because of this couple's growing relationship, which had me smiling because this couple's introduction to each other was all kinds of cute despite the fact the hero is a complete grump. Why is he so annoyed in having been interrupted? Will he do the favor the heroine asks of him because she's so desperate for his help?
At that moment, Willow let out a little bark. "Do you happen to know whose dog this is?" he asked. "According to its collar, its name is Willow, but the number listed is disconnected."
Crap, she totally meant to get that updated. "Willow's my dog. I was just looking for her."
"Here." He shoved Willow towards her, as if her dog stank like rotten trash, which Kerry knew wasn't possible as she'd given Willow a bath yesterday. "Your dog is found."
With the main characters, I found the heroine brings out the best of the hero. She makes him realize that losing someone he cared about isn't the end of the world and that he shouldn't hide from his grief. I also liked how resilient and courageous the heroine is when it comes to dealing with her past and her horrible jerk of an ex. What did she ever see in her ex? Why is her ex so determined to make her life hell now when their relationship has been over for a little while? Yet, what I liked most of all about the heroine was her dedication to her family and her determination to make a new life for herself after what happened with her ex.
While the hero, I couldn't help but sympathize with all that he's been through. Losing his canine companion wasn't easy and he's feeling such guilt that made me want to cry for Caleb's loss. Furthermore, I liked how willing the hero was to help the heroine in her time of need because he's a good guy that needs to begin interacting with others again instead of getting bogged down in his grief. Yet, what I liked most of all about the hero is that he let the heroine in, as they helped each other to heal.
He pressed his lips softly against hers. "I promise. I'll be your shoulder when you need it. The person who will stand at your side when you need it. But if you're physically threatened, I'm going to act. No one hurts what's mine. And you're mine, Kerry Williams. All mine."
"I like the sound of that."
Overall, Ms. Flockton has delivered a fantastic read in this book where the chemistry between this couple was intense and convincing; the romance was heart-warming; and the ending had me worried for this couple's happy ever after because of the hero's protectiveness and the heroine's need to fight for her independence, but had me thoroughly enjoying how the hero makes things right with the heroine after their relationship goes awry. Then again, the hero is always going to want to protect her because it's in his nature. Will Kerry be able to deal with Caleb's protectiveness? However, it was the epilogue that wrapped this story up nicely, as this couple are so happy together. I would recommend Next Door Knight by Nicole Flockton, if you enjoy the enemy to lovers trope, the opposites attract trope or books by authors Kadie Scott, Katherine Gerbera, Nicole Helm and Joanne Rock.
Book Info:

Publication: March 28th, 2019 | Tule Publishing | Man's Best Friend #2
Can a dog heal two wounded souls?
Newly single Kerry Williams is at her wit's end. She's juggling her injured father's care, a new job as the manager of a hip new restaurant and her therapy dog Willow volunteering at the Veteran's Center — all while struggling to rise above her humiliating heartbreak. When her father's caretaker fails to show one evening, she's terrified she'll lose her job. And then Willow runs away. Panicked, Kerry gives chase and immediately runs smack into a tall, dark and sexy wall of muscle, palming a squirming bundle of fur. Her new hero seems like an answer to her prayers.
The last thing K-9 officer Caleb Bradshaw wants, is to babysit his neighbor's father and her dog. He's facing a potential career-ending injury and grieving the death of his working partner, Trigger. Sure he can handle a cranky old man, but the quiet comfort of Willow who follows him around with liquid-eyed sympathy tugs at the heart he's trying to keep walled-off after his many painful losses.
Kerry knows Willow can ease Caleb's grief, but he continues to push her away. Even though her life is in shambles and she too should walk, Kerry knows she can't and won't. Will Caleb accept her help or will he close himself off completely?