Caught by the Cowboy Dad: A Clean Romance by Melinda Curtis: The Monroe cousins inherited the town of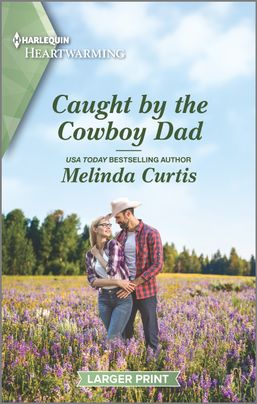 Second Chance, Idaho from their grandfather, Harlen Monroe. The real shock was that Harlen's will stated that all of his grandchildren had to be fired from the family businesses.
Owning a dying town in Idaho wasn't much compensation. The cousins needed to agree on whether to keep the town or sell it. Holden Monroe, the oldest Monroe cousin, led the "sell" side of the family. He wanted no part of the dying town. Then he met Dr. Bernadette Carlisle on one his trips to town from New York City. They began a long distance relationship which eventually led to Bernadette getting pregnant. Which led to a rift between Bernadette and Holden. Will this made a difference in Holden's position about selling the town?
I loved reading about their very rocky road to a HEA. I greatly enjoyed this book by Melinda Curtis, Caught by the Cowboy Dad which is the eighth book in the Mountain Monroe series. Ms. Curtis does a wonderful job with developing the characters and their relationships. The whole series is a "not-to-be-missed" one!
Book Info:

Publication: June 29th 2021 | Harlequin Heartwarming | The Mountain Monroes Book 8
This cowboy's planned his future…
Then love gets in the way!
Holden Monroe is focused on sending his son off to college until ex-girlfriend Bernadette Carlisle drops the bomb that she's expecting their baby. The cowboy's offer to do the right thing is an empty gesture to Bernadette. The successful doctor doesn't believe Holden capable of settling down—she just wants a custody agreement. But an eventful road trip might just change everyone's expectations!
USA TODAY Bestselling Author
The Mountain Monroes
Book 1: Kissed by the Country Doc
Book 2: Snowed in with the Single Dad
Book 3: Rescued by the Perfect Cowboy
Book 4: Lassoed by the Would-Be Rancher
Book 5: Enchanted by the Rodeo Queen
Book 6: Charmed by the Cook's Kids
Book 7: The Littlest Cowgirls
Book 8: Caught by the Cowboy Dad
Book 9: A Cowgirl's Secret