Challenging Dante (A Bride For A Billionaire #4) by Lynne Graham: Dante Leonetti has very strong suspicions regarding his mother's new assistant Topsy. He believes she has ulterior motives for working as his mother's assistant and he is determined to protect his mother from her by exposing her. Topsy is searching for her father and that is the only reason she took a job as a PA to Sophia, whose new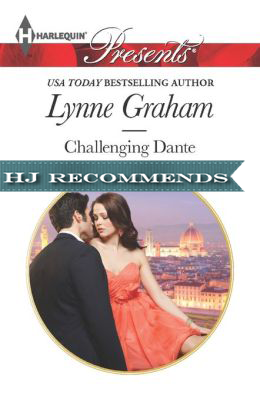 husband may be the man she is searching but she does not expect to feel such a strong attraction to Dante, which may prove fatal for her plans.
Challenging Dante was a well written harlequin with a well executed plot. The story is based on misunderstanding and prejudices from both the protagonists sides who fall in love in the end when their misconceptions about each other are proved wrong. Dante was a very typical harlequin hero with the usual characteristics. He was dominating and quick to jump into wrong conclusions regarding the heroine. Topsy was a feisty, math geek and virginal heroine who had to lock horns with Dante at every possible situation and therefore the book is very aptly titled Challenging Dante because that's what she does throughout the book.
The romance was filled with seductions, interesting conversations, secrets,confrontations and sizzling sexual tension.There was never a dull moment in the book because something was always happening. I liked the way the characters got their HEA and the way they fell in love was also believable. What I did not like was the excessive secret keeping and though it was a nice addition, sometimes it was just plain frustrating.
Overall Challenging Dante by Lynne Graham is a nice read and though it is not as great as the remaining books in the series, Lynne Graham's fans will still love this one. The heroine was quite feisty and readers looking for a sweet heroine will be disappointed.
Recommended for Lynne Graham fans and everyone who liked the A Bride For A Billionaire series.
Book Info:

HJ Recommends 
Published August 20th 2013 by Harlequin  Presents (Book 3169) | (A Bride For A Billionaire #4)
When trouble comes to stay.
…Unimpressed by his mother's new companion, shrewd Italian billionaire Dante Leonetti is determined to oust the cuckoo from his castle. After all, what could this beautiful, intelligent young woman want with his family other than a slice of their fortune?
Topaz Marshall's search for her father brought her into Dante's world and now she's experiencing Leonetti's ferocious reputation firsthand. Knowing Dante thinks she's a gold digger, she is shocked when he turns on his legendary charm. Dante is determined to seduce the truth from her lips and Topaz must do everything in her power to resist