In Change My Mind by Elley Arden, Nel Parker will do just about anything to make her fledgling real estate agency into a successful agency at the top of the list. Unfortunately, she must first get a good house on the high range in order to be able to get more clients. Good luck is on her side though when she finds two dogs at her office door digging through the trash for food, for those dogs belong to one of the big mansions that are in the million-dollar range.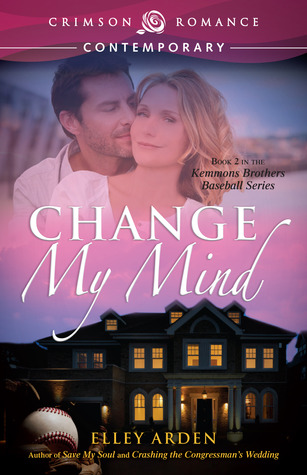 Grey Kemmons has carried some guilt over what his father did to his brother, and now that he has inherited the house from him, he spend his time off-season to restore it. It's hard work, but he needs every penny saved to be able to repay his brother for the money his father took. But nobody can recognize him or he will not be able to do this without everyone finding out and his brother not letting him do it. The house is tacky looking on the inside and it will take lots of work to restore it.
Grey does not thank or miss his father at all, especially after he did to him, but he does miss the dogs. When all of a sudden the dogs show up followed by a spitfire woman who has come to return them. But since he does not want to be recognized, he tells her that the owner is not available and that he is only a worker.
Nel is determined to be the one to sell the house if it's going to be put on the market. But first she must convince the new owner to hire her, until she finds out who the new owner is and recognizes him from the man with the beard just by his eyes. Now she must find a way to get close to him again and convince him to give her a chance. And confidentiality is not an issue with her, she will do anything to sell the house and help get it in the market for the price he wants.
But things will not go easy for them though, since the house was not kept the way it was supposed to and damage that neither of them can handle makes her call in reinforcements, in the form of her brothers. What seems like the perfect solution at first turns out to be more complicated when the attraction and chemistry between them is so obvious that her brother will try many ways to stop her from acting on it. And to make matters worst, her ex has just listed a house across the street from Grey's.
Nel and Gray have a lot of fun and challenging things to face, but with a little determination and faith they may just be able to get what they really want in their heart of hearts, but first they must realize what that is. You will fall in love with them both and wish to heal them from the past pain and cheer them on as they start to heal each other.
For a fun, sweet and very entertaining read, don't miss In Change My Mind by Elley Arden.
Book Info:

September 9th 2013 by Crimson Romance
Nothing is going to stop Nel Parker from raising her fledgling real estate agency to the top of the heap. When she returns two dogs to a million-dollar mansion with a dumpster in the driveway, she thinks the house is her lucky break. But the owner turns out to be a moody professional baseball player with a complicated agenda of his own, leaving Nel to fear her plans for real estate domination are doomed.
Centerfielder Grey Kemmons is spending the off-season renovating the house he inherited from his father. It's a miserable job, but he's doing it anyway—because somebody has to pay back the money his father stole. When a spitfire of a woman in a surprisingly attractive package shows up wanting to list the house, he agrees to pacify her with a tour, never expecting the mutually beneficial business relationship that ensues.
As weeks go by, business turns to pleasure with Nel and Grey believing the temporary nature of their time together will protect their hearts. Too bad nothing can protect them or prepare them for love.