In Love Overdue by Pamela Morsi, Dorothy "D.J." Jarrow is ecstatic when she sees the Verdant Town Library for the first time. She is the head librarian and can't wait to bring in a fresh perspective and get started making improvements. She has a less than stellar welcome by the current librarian, Miss Grundler, when she arrives, but she's up for the challenge. She almost changes her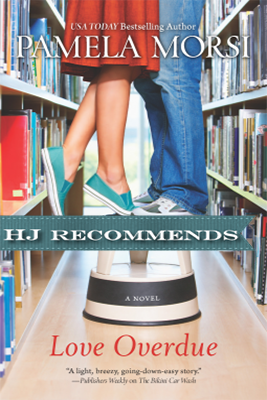 mind, however, when she realizes that her landlady's son Scott was her spring break fling eight years ago. D.J. never expected to see him again.
'That's how he lures stupid women in, she reminded herself sharply. He makes them think that he's smart and funny and kind. And he has amazing sex with them, so that nobody else ever quite measures up.'
Scott is just as handsome now, maybe even more so, and is still as much a smooth-talker as he was in South Padre Island. By some miracle he doesn't remember her and she wants to keep it that way. Awkwardness ensues thanks to his meddling, but loving, mom Viv finding ways to throw them together. Will D.J. be able to ignore the sparks still flying between her and Scott? Or will she give in and see if their chemistry is still just as combustible as before?
"That didn't feel like a first kiss."
Danger alerts finally sounded in D.J.'s brain. "I don't know what you mean."
"I feel like I've kissed you a million times and it was always like that."
Pharmacist Scott Sanderson has always been the kind of guy who does what is expected and tries to live up to the name his father made for their family. He still remembers (and fantasizes about) the one time he just went wild and did whatever he wanted eight years ago on spring break. How he wishes he could see his South Padre Sparkle again. When he first meets the new town librarian, D.J., he thinks she looks familiar, that they've met before but can't figure it out. Scott hears the entire town talking about how nice and welcoming she is, but she's always cold and concise with him. He doesn't know what he's done to offend D.J. but he tries to keep an open mind. He thinks she's very pretty and is probably quite sexy beneath that all-business attitude. If he could just get her to give him the time of day he knows he could change her mind.
"This woman literally rocked my world," Scott said. "It was like a sexual awakening that I had no clue about. Totally off the charts."
Love Overdue is a fun small town romance for all of us hopelessly devoted to books and libraries. Quirky yet sweet characters abound in Verdant, Kansas, all of whom have their very own special place in this story. I loved that there are several funny references to The Wizard of Oz, of course with it being set in Kansas…and there's even a little dog too! No his name isn't Toto. It's Melvil Dewey, Jr, which is quite fitting considering his owner is a librarian, and for me he was really the most endearing character in this book.
Pamela Morsi did a fabulous job bringing a small mid-west town to life with an array of multi-layered residents. Most of them are sweet and harmless like James, Suzy, Amos, Jeannie and Stevie & Vern. Amelia Grundler on the other hand plays the part of the wicked witch in town and is someone you will love to hate. Viv Sanderson was one of the more intriguing characters to me. She's fun, outgoing and filled with civic pride and duty. But she's still reeling from the loss of her dear husband and it's not really clear until the story progresses as to how she is really coping with everything.
I cheered on our hero and heroine from the start. And what a bumpy start (well, re-start) it was! D.J. remembered their one night fling eight years ago but Scott doesn't. We get to see snippets of that night through flashbacks scattered throughout the book. D.J. spends much of her time worrying he will remember yet also still feeling completely drawn to him. I was frustrated with the way she handled the situation at first, but obviously it added some sparks to the storyline, so it worked well for their situation. Scott is a great guy who's doing his best to live up to his father's expectations. He's learned from his mistakes and just wants to find that special someone with which to settle down.
Simply put: Love Overdue is just a lot of fun. I loved the quirkiness of the story and characters. The ending is magical (read the Epilogue!!) and totally made me sigh happily. I highly recommend this for contemporary romance readers looking for an off-beat but very charming story.
Book Info:

Published August 27th 2013 by Harlequin MIRA
Buttoned-up book lover DJ is all sensible shoes, drab skirts and studious glasses. After an ill-advised spring-break-fueled fling left her mortified, she's committed to her prim and proper look. When she's hired by a rural library in middle-of-nowhere Kansas, she finally has the lifestyle to match-and she can't wait to get her admin on.
But it's clear from day one that the small-town library is more interested in circulating rumors than books. DJ has to organize her unloved library, win over oddball employees and avoid her flamboyant landlady's attempts to set her up with the town pharmacist. Especially that last part-because it turns out handsome Scott Sanderson is her old vacation fling! She is not sure whether to be relieved or offended when he doesn't seem to recognize her. But with every meeting, DJ finds herself secretly wondering what it would be like to take off her glasses, unpin her bun and reveal the inner vixen she's been hiding from everyone-including herself.