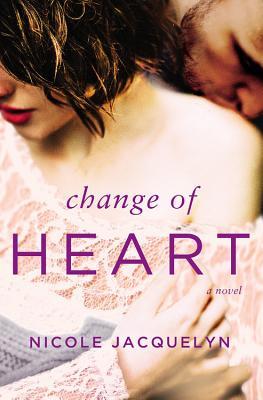 Change of Heart by Nicole Jacquelyn: Anita wasn't used to stability or what it meant to have a caring and supportive family until she arrived on Dan and Liz's doorstep. With them she found a family, even if it meant having the brooding Abraham as a constant presence in her life. Ani and Bram never got along, but built their relationship on taking swipes at each other. They are always at odds with each other, which can make Friday night dinners, other family occasions, and work interesting.
Ani is determined to be independent after growing up in the foster care system. The system has certainly shaped her personality, as she can be stubborn, abrasive, pushes others away, and lack a filter before speaking. Bram comes across as being more difficult and brooding, especially compared to his charming, life of the party twin brother.
While their interactions are almost always contentious, they are connected. After Ani discovers a part of Bram's life that he hasn't shared, one thing leads to another. Both are surprised that their usual bickering took a very unexpected turn and they can't undo what's been done.
"Are you drunk?" I asked, watching him as he braced himself against the wall.
"No," he shot back defensively. "It just takes me a minute to wake up."
"That's the cutest thing I've ever seen," I said seriously, sitting gingerly up in bed.
"Shut up."
"No really, you're like a newborn giraffe. It's adorable."
That one night leads to changes in their relationship. Neither change their personalities, but they find ways to interact that include some real conversations. Becoming intimate changes things. They decide their relationship is sex only, but neither anticipate that feelings would be involved.
"No, really."
"No, really, you can. I'll tell Trev and the dads not to let you into the office on Tuesday."
"I'll junk-punch you."
"No you won't. You need me to help you with the floors."
Change of Heart is sexy, emotional, and the perfect follow-up to Unbreak My Heart. Nicole Jacquelyn creates a great dynamic between the characters with some fun banter. Ms. Jacquelyn provides a wonderful sense of family with the lovable secondary characters who may or may not be related by blood. Change of Heart can be read as a standalone. Fans of Colleen Hoover, Jamie McGuire, and K.A. Tucker will enjoy Change of Heart.

Book Info:

 Expected publication: September 6th 2016 | Forever | Fostering Love #2
They've spent their lives pushing each other away, but what will happen when they need each other most?
Anita Martin doesn't expect much from life. Growing up on the street, bouncing from one foster home to another, she learned to rely only on herself. Even after she finally found a loving family to take her in, she was still an outsider-something Abraham, one of the family's older sons, never let her forget.
Abraham Evans doesn't know how Ani always manages to get under his skin, only that's she's been doing it since they were teens. She is-and always has been-undeniably gorgeous. But he's never met anyone as pissed off at the world as Ani.
For fifteen years, Ani and Bram have agreed on exactly one thing: they can't stand each other-until one night when their anger gives way to passion. Yet even as Ani and Bram begin to secretly seek comfort in one another's arms, they remain emotionally worlds apart. When Ani's life takes a dramatic turn and she realizes she needs more than Bram can give, their fragile, no-strings relationship unravels. One way or another, Ani is determined to survive. But when Bram finally admits his true feelings, he may discover Ani has moved on without him . . .