No Limits by Katherine Garbera: When you reach for the stars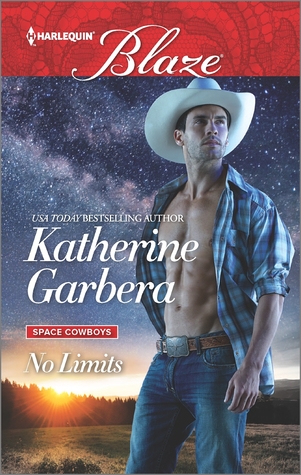 sometimes it's the ground you end up with and sometimes you manage the universe.
Molly Tanner had her heart broken by every man she ever loved, from her first boyfriend up to the most recent. Right now though she was dealing with the heartbreak of her father's death and that he left her the ranch with "Ace." She wasn't so sure as to how she was going to deal with him again… Could she be an adult? Or would she still be just as much in love with him as she ever was?
Jason "Ace" McCoy needed more. He had always needed more, the moon, the stars, he needed everything. So when he had been accepted into NASA he jumped and left everything on earth behind. Including two of the most important people in the world to him. Now that he was facing a possible grounding he needed to know if she could ever understand why he had needed to go.
Thrown together by her father's death Molly and Ace had to figure out a way to make the ranch work together, or face losing it, her father's legacy and themselves. Could they have the moon and the stars as well as the earth and the ground?
There isn't a Garbera book that is not well written. It's just not possible, but this one was harder for me. It felt a little more forced and not as romantic or even as steamy as her normal novels. That being said it was a great character study and piece on NASA and the side effects for astronauts and their choices. It is a good book, just a little different from Ms. Garbera's normal tendencies.
Book Info:

Publication: Published August 23rd 2016 | Harlequin Blaze | Space Cowboys #1
Some cowboys are outta this world…
Astronaut Jason "Ace" McCoy tried to escape Cole's Hill, Texas—and the memory of Molly Tanner's dark eyes and strawberry-scented hair—among the stars. Now he and Molly have jointly inherited her father's struggling ranch. And having failed his latest medical tests, Ace is on leave—maybe forever.
He's determined to sort things out with the ranch and get back to Houston as soon as possible. What he wasn't counting on is that Molly's only gotten more beautiful over the years…and she still wants him. The passion between them is hotter than rocket fuel—and just as dangerous. He can't promise anything as long as there's a chance to go on another mission. But even in orbit, this attraction has no rules…and no limits.