Charming Fiona by Jessica PrinceI adore the four girlfriends in Jessica Prince's Girl Talk series, and I've eagerly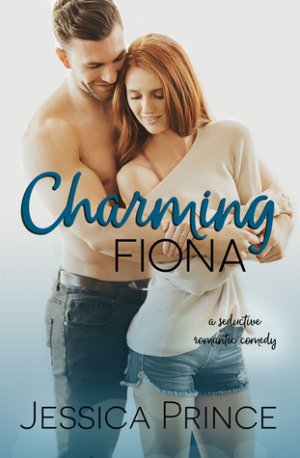 awaited the fourth, stand-alone book, Charming Fiona. (While they are all stand-alones, you do not want to miss the three previous book!) It did not disappoint; it's a steamy and heartfelt romance with all the feels.
Deacon and Fiona were best friends growing up, but Deacon had unconfessed feelings for her. Fiona always relied on him and cherished their friendship but never realized he was interested in her romantically, and she actually ended up in a longterm relationship with his older brother. Deacon felt betrayed but never stopped loving her. When he does confess his feelings years later, Fiona is stunned and responds accordingly, which hurts Deacon. It was a bittersweet scene but realistic and really pulled at my heartstrings.
Without giving away the story, Fiona realizes she has feelings for him and they end up together, and Deacon ups his swoon-y factor exponentially when they do. He's sexy, protective and tender, and he's an alpha-male through and through. Sigh. I loved him. He and Fiona's chemistry is electric, and the loves scenes are hot and emotional.
Charming Fiona had me laughing, smiling, tearing up and blushing. It's a wonderful friends-to-lovers romance and another great addition to a great series.
Book Info:

Publication: 3/7/18 | Self-published | Girl Talk #4
As I child, I believed in true love and fairytales. I convinced myself that there was one special man out there, made just for me. All I had to do was wait, and one day he would appear. Then I grew up and discovered the ugly truth.
Disney movies were full of crap.
Relationships took work. People made mistakes. And sometimes, you didn't see what was standing right in front of you until it was too late.
Deacon Lockhart was my best friend. And then I lost him. But now I finally have a chance to make things right, and this time I refuse to screw it up. With every smoldering look and wicked word, he charms the hell out of me… and I'm pretty sure I'll never get enough.