My Royal Temptation by Riley Pine is a sexy and fun romance with a tongue-in-cheek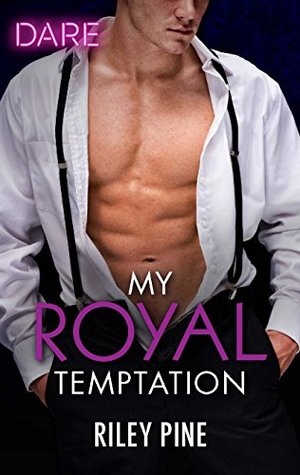 look at a modern royal family.
Prince Nikolai is a playboy prince, his life revolving around fast cars and fast women. But to his dismay, his father and step-mother are serious about enacting the royal law that decrees he must be wed by his 29th birthday in order to take the throne. Determined to find a way around the law, he's ready to thwart their latest salvo in the fight to find him a bride – the matchmaker they've hired to find him a suitable companion.
Kate knows this is a plum job, and one with a real monetary benefit as the queen has promised her a bonus for getting the job done, and for using one of her suggested women – something Kate can't turn down as she and her sister support her aged grandmother. Kate knows that the prince has a certain reputation, and it's no surprise when he turns those sexy eyes and wicked body on her, seducing her in a heartbeat. She's in a quandary – trying to find him a life partner while at the same time falling for his charming ways herself. But will this fairy tale romance get a happy ending, or will the wicked queen foil all their plans?
I really enjoyed this steamy romance! There's some definite insta-lust between Nikolai and Kate, and while she is setting him up on dates as per her arrangement with the Queen, there is no cheating on Nikolai's part once he's had a taste of Kate. He puts up with the meetings and manages to turn off the women in question by declaring his intentions to have a sex-free 'for convenience only' marriage which ensures that none of the women are interested. The tricky part comes as the two of them actually start to bond outside of the bedroom, and Nikolai has to wonder whether Kate's feelings for him can be trusted.
There are some secrets on Kate's part that she doesn't share right away, but will definitely impact their relationship. Plus, the prince isn't allowed to marry a commoner – well, unless an elaborate ritual is followed. Here the story delves into a bit more of a fantasy, complete with poisons and quests and your standard wicked stepmother and all that entails. It's definitely an entertaining read, and there are several secondary characters (especially Nikolai's brother Benedict, and bodyguard X) who have left me wanting more. I can't wait to continue the series!

Book Info:
Maria Rose| 4 Stars | HJ Recommends | No |
Publication: Mar 01, 2018 | Harlequin Dare | Arrogant Heirs #1
I will never love.
I will not marry.
Happily ever after doesn't exist in my kingdom.
I'm Prince Nikolai, Duke of Westcraven and heir apparent to the Edenvale throne. I've got rock hard abs, live hard, and f**k even harder. Life is a nonstop party until my father and evil stepmother hire Kate Winter, a prim and proper matchmaker, and give me an ultimatum: marry by my twenty-ninth birthday or they'll hand my crown to the banished brother who once a betrayed me.
There's no way in hell I'll give my heart to any woman.
Because you cannot give what is broken beyond repair.
But what hides beneath Kate Winter's ice queen exterior is a fiery redhead who likes it hot. She may have a sharp tongue in the throne room, but oh the things that tongue can do when no one else is looking.
That's why I didn't see it coming–Kate Winter enticing me, body and soul. Now she's the only woman I want–and according to Royal Law, the woman forbidden to be my queen.
But I'm sure as hell no Prince Charming, and I've never been good at following rules.