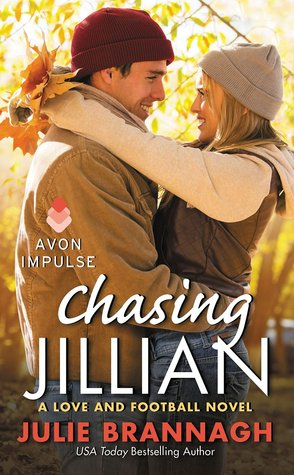 Chasing Jillian by Julie Brannagh
When Jillian sneaks into the Shark's weight room in order to work out to an exercise DVD, the last thing she expects to happen is to be discovered by linebacker Seth Taylor. After seeing the DVD, he puts her on a treadmill and a friendship develops.
I liked that Seth took in an interest in helping Jillian lose the weight she wanted to get rid of. Instead of laughing at her for using the weight room to exercise, he shows her how to work the exercise equipment. He meets up with her on her lunch breaks and takes walks with her. It's not because he wanted her to lose weight–he liked her the way she was–but he wanted to support her and what she wanted to accomplish.
Jillian, growing up in foster care, devotes her spare time helping out with an organization that assists foster children. She clearly has a big heart, giving away as much of her time and money as she could to help the kids.
I liked how these two started out as strangers and worked their way up to friends before moving on to lovers. Their relationship develops over the time span of months, not days or weeks, and it was a very natural progression.
One thing I would have liked to have seen Jillian meet Seth's parents. He tells his mother about her, but they never actually meet. Considering how much Jillian longed for a family, and how close Seth seemed to be with his, it just seemed like something like that should have been included. She does get to meet his sister though, so it's not like the entire family is left out.
I was a little frustrated with the owner of the football team, John, who seemed to have a negative opinion of Seth. He had a negative view of football players and their lifestyle, which was odd considering he was the team's owner. Instead of taking Seth into consideration as an individual, he just lumped him in with other unsavory players that might exist. It felt like that was thrown in to create some unnecessary drama.
This is a sweet, mostly drama-free book. It's the fifth one in the series, but you do not need to read the other books first. Characters from the previous books do make appearances, but I didn't feel like I was missing anything and I have not read the other four books.

Book Info:

July 7, 2015 | Avon Impulse | Love and Football #5
Jillian Miller likes her job working in the front office for the Seattle Sharks, but lately being surrounded by a constant parade of perfection only seems to make her own imperfections all the more obvious. She needs a change, which takes her into foreign territory: the Sharks' workout facility after hours. The last thing she expects is a hot, grumbly god among men to be there as witness.
Star linebacker Seth Taylor has had a bad day—well, a series of them recently. When he hits the Sharks' gym to work out his frustration, he's startled to find someone there—and even more surprised that it's Jillian, the team owner's administrative assistant. When he learns of her mission to revamp her lifestyle, he finds himself volunteering to help. Something about Jillian's beautiful smile and quick wit makes him want to stick around. She may not be like the swimsuit models he usually has on his arm, but the more time Seth spends with her, the harder he falls.
And as Jillian discovers that the new her is about so much more than she sees in the mirror, can she discover that happiness and love are oh-so-much better than perfect?