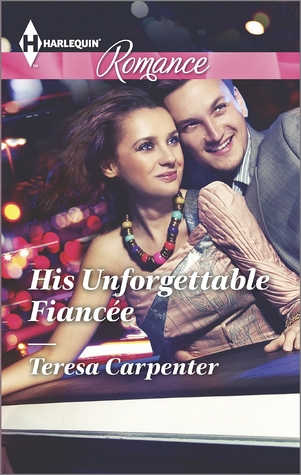 His Unforgettable Fiancée by Teresa Carpenter: Will John Doe become a Prince or a Villain when his memory is recovered?
Grace Delaney is a sheriff, then when the clock struck midnight she wouldn't be any longer. Thinking that her work would speak for itself in the election, well she was wrong and her life was changing. As soon as she dealt with the John Doe who was just brought in.
Jackson Hawke, AKA John Doe, had been through the ringer. The problem was he couldn't remember the ringer or how he had even gotten there. Would he be able to figure it out? Then who was this Grace person? Why would she want to help him even when her job was done?
What was going to happen with these two? Would Grace be able to help her John Doe find out who he was? When he discovered who he was would there still be room in his life for Grace?
Wow! I'm not sure what to say about this novel. There wasn't much not to like, the only really odd thing for me was the title didn't seem to fit. Otherwise this was a really wonderful book. Great characters, good quick moving plot and a wonderful conclusion. This is a good book to relax into and enjoy what might just be.

Book Info:

 August 4th 2015 | Harlequin |
Her million-dollar mystery man…
Sheriff Grace Delaney's last case is a handsome stranger suffering from amnesia. She agrees to help him uncover his memory, but when his identity is revealed as multimillionaire playboy Jackson Hawke, Grace must swap the safety of her small town for the bright lights of Las Vegas and pretend she's his latest conquest!
Grace soon finds herself falling, not for the millionaire, but the man she's come to know. But when Jackson's memory returns, will he forget her…or make her dreams a reality?