In Chasing Justice by Kathleen Donnelly, former Marine K-9 handler Maya Thompson is dealing with the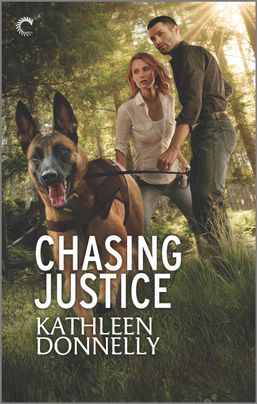 guilt of losing her K-9 partner to an IED. She drinks to avoid her feelings, which leads her to missing her grandmother's funeral, which leads her to feeling even more guilty. Now she's finally returned to her hometown to face her grandfather, the local sheriff, and become a law enforcement agent with the US Forest Service with her best friend, Doug, and his K-9 partner, Juniper. Only tragedy strikes, and she's left with Juniper after vowing to never have another K-9 partner again, as well as dealing with Josh Colten, the local deputy sheriff.
After losing his human partner in Chicago, Josh moved to Colorado for a fresh start. Having battled his own demons, he recognizes the same in Maya and vows to help her, not only with the case, but with her personal issues. Then Maya's grandfather disappears, and Maya has no idea who to trust, including Josh. Everyone seems to be hiding something, including her own grandfather. Maya has no choice but to put her trust in Juniper and Josh, even if it's only temporary, but will she come to regret it?
There are some topics that are shown or mentioned in the book that may be hard for some readers, such as alcoholism and drug use. If these bother you, you may want to consider staying away from this one.
I'll start by saying if you're expecting a romantic suspense, it leans much more towards suspense. There's an attraction between Maya and Josh that carries throughout the book, but it never develops to more than friendship. So, if you're looking for an actual romance, you won't find it in this book. The way the book ends hints readers may see more of these characters in the future; if that's the case, perhaps something will eventually bloom between them because the chemistry was there for it.
The villains are never a secret, but there is still a bit of mystery as to what is really happening in regard to the drugs. A few unexpected twists are thrown in that will keep readers on their toes. There's also a twist at the end of the story that throws Maya for a loop and starts her journey into a new investigation. I'm hoping there will be another book that deals with this, because I'm interested to see how that's going to turn out.
This is the author's debut novel, and it was an enjoyable debut. Her real-life experience as a narcotics dog handler added realism to Maya and Juniper's relationship; it was clear that she's very knowledgeable about working K-9's in the field. If you enjoy suspense and books involving K-9's, this may be a book for you. There's plenty of action as the characters also begin the process of healing, forgiving, and learning to move on from the past.
Book Info:

Publication: May 24, 2022 | Carina Press |
After losing her military K-9, former marine Maya Thompson swears she'll never work with dogs again. But when she returns home to Colorado and accepts a job with US Forest Service law enforcement, fate brings K-9 Juniper into her life just as another tragedy unfolds.
Juniper, a beautiful two-year-old Malinois, isn't the only new addition to Maya's life. Josh Colten, the local deputy sheriff, insists on helping with her new case. Handsome and mysterious, he's all anyone in town can talk about, but Maya can't let herself like him, let alone trust him.
When Maya's grandfather goes missing amid a growing drug war, Maya must put her faith in Josh, and her own battered instincts, to find him. But there's a web of secrets tying her grandfather to the tragedy that brought Juniper into her life—secrets someone would kill to keep hidden.