In Claiming His Own by Olivia Gates, Russian billionaire tycoon Maksim Volkov disappeared from Calliope's life when she was seven months pregnant with their son and she is left alone to face the remaining pregnancy. After a few months, he is back in Calliope's life to redeem his actions and claim his rightful place in both his son, Leo and Calliope's life by offering everything he can. But the woman he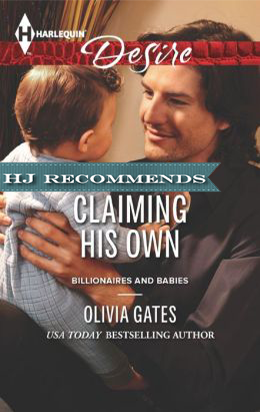 left behind is afraid to believe the promises he is making due to the fear of going through the heartbreak again. Can Maksim claim his woman and child as his own with the shadows of his tragic past surrounding his present..??
No, Maksim. I Refuse Your New Deal."
"It's a proposal, Caliope."
She took a step back, then another, making him feel she was receding forever out of reach. "Whatever you want to call it, my answer is still no. And it's a final no. You had no right to think you can seek redemption at my expense."
"The redemption I'm seeking is for you. I'm offering you everything I can, what you just admitted you need."
"I only said you left at a time when I most needed you, not that I need you still."
Olivia Gates is a an expert in writing angsty romance and Claiming His Own is no exception. The characters are well crafted with the right kind of emotions flowing through out the story, it was a highly engaging read.Maksim is a tortured hero with a tragic childhood and an even more tragic incident makes him redeem his ways. He was a very genuine hero and I loved him because he really cared for Calliope and his son, Leo. Calliope was a strong heroine and managed to handle everything alone after Maksim left. I liked that she did not give her heart easily after Maksim returned and was quite justified in every decision she took after his return. Sometimes the amount of problems Maksim had was just too much and his tortured hero persona was difficult to handle sometimes.
He held her tighter to his side. "Spasiba, moya dorogoya. Thank you, for Leo…for everything."
Her tears poured faster as she sank into his embrace, having no words to express her own gratitude—for him, for this, the family she and Leo suddenly had.And mingling with all that joy was the dread that this would only be temporary.
She leaned against his formidable shoulder and wondered how this would end.
And when it did end, since nothing this good could possibly last, would she survive it?
Overall Claiming His Own by Olivia Gates, is a well written angsty romance with well crafted characters and an engaging story set in Russia. If you like a tortured hero who is seeking redemption theme and love Olivia Gates, then this is the book for you.
Book Info:

HJ Recommends
Published November 5th 2013 by Harlequin Desire (Book 2265) | Billionaires and Babies
It is only an affair…or so they believe in this Billionaires and Babies tale from USA TODAY bestselling author Olivia Gates
From their first explosive night, Caliope Sarantos and Maksim Volkov agreed to no commitment, only pure pleasure. Then her pregnancy changed everything.
Though the Russian tycoon made the baby his heir, he disappeared from Caliope's life. Now, he's back, offering everything he didn't in the past. But the shining promise of a happy ending is eclipsed by the shadow of his tragic past…and his dark future. Will Caliope's heart break again? Or will Maksim risk everything to claim this woman and child as his own?