In Cherish (Covet #1.5) by Tracey Garvis-Graves, Jessie received the call that no wife, or ex-wife in her case, of a cop ever wants to get: that her ex-husband Daniel was shot and is in critical condition. The fact that things ended badly between them two years ago melts away the moment she rushes to the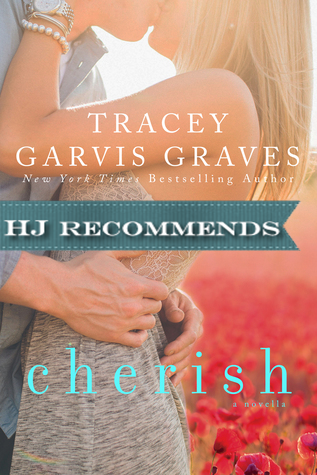 hospital, although Jessie is a bit shocked that Daniel never removed her name as his emergency contact. The hours she spends at his bedside, willing him to wake up gives her time to think about what is important and how badly she treated him after the loss of their beloved son, Gabriel. So as Daniel begins to recover slowly, Jessie offers her assistance in taking care of him with the hopes that they can become friends again and then maybe one day have another chance at love.
"I'm ashamed of the way I treated you, and I will forever carry the guilt associated with the things I said and did. My remorse is immeasurable. I was thinking we could start fresh. Try to turn back the clock and get back to a time when we were happy together."
Daniel doesn't remember much about the shooting or the months leading up to it when he wakes up. But he can piece together what happened between himself and Jessie, who sits beside his bed tentatively every day. Daniel can't even fathom how many hours of physical therapy he's facing as he recovers from his brain injury but somehow it doesn't seem so daunting with Jessie helping him. Obviously there is still a lot to talk out between them, but Daniel has to admit that his feelings for her have never diminished. Maybe his second chance at life will also give him back the love he's desperately been missing for the past two years.
"…I still love you, Jess, and I won't let you go again. No matter what happens in the future or how hard you push me away. I won't stop this time until I get you back."
Tracey Garvis-Graves has given us a stunningly beautiful second chance romance novella aptly named Cherish. Those of you who read Covet (book one) and wanted to see Daniel get his own happily-ever-after…well, this one is for you!
I want to start off by cautioning that it would be best to read Covet first before beginning Cherish so the story will make sense. Covet gives us the details of Daniel's failed marriage with Jessie and what led them to that point, as well as what happened between himself and Claire. That being said, I was so happy to get more time with Daniel in this short story and to get closure after the way things were left with him at the end of Covet. His journey here was a painful, sometimes heartbreaking one, but he showed the courage and strength that I knew he possessed. And I'm glad that this is written alternating between Jessie and Daniel's POV so we get both of their thoughts about their past and what they hoped for the future after his incident.
I'll admit I wasn't sure about his ex-wife Jessie being back in his life at first. But when we finally got to see her perspective on how things ended between them and what caused her to push him away, it made much more sense. I thought Ms. Garvis-Graves did a fantastic job of showing, little by little, how Daniel and Jessie began to understand each other better and how those feelings of love that never went away started to grow until it couldn't be ignored. I mean, some of the scenes where Daniel remembers certain moments in their past were just so touching it brought a tear to my eye. Their new bond was formed out of friendship while Jessie was a caregiver for Daniel, but there was such tenderness between them both that I knew it was inevitable they would end up fully in love again. *happy sigh*
If you had a special place in your heart for Daniel after reading Covet like I did, I think you'll truly enjoy his journey back to the love of his life in Cherish.
Book Info:

Publication: October 28th 2014 by CreateSpace | (Covet #1.5)
Fans of Covet by New York Times bestselling author Tracey Garvis Graves will be delighted by this novella-length sequel.
When Daniel Rush wakes up in the hospital after suffering a gunshot wound to the head, the last person he expects to see at his bedside is his ex-wife Jessica. Their marriage disintegrated after the death of their infant son Gabriel, and Daniel gave Jessie what he thought she wanted: the freedom to start over with someone else. But Daniel never updated his emergency contact information, and Jessie is the one who receives the call with the devastating news.
Daniel was Jessie's one true love. Together since college, Jessie had dreams of raising a family with Daniel, and growing old together. When Gabriel died, Jessie buried those dreams with her beloved son and shut everyone out, including Daniel.
Daniel faces months of grueling rehabilitation and he's going to need some help. Jessie is the last person anyone expects to volunteer, but this is her one chance to make amends, giving her and Daniel a shot at getting things right this time.
The road to recovery will be long and arduous. But with Jessie leading the way, Daniel just might be able to get his old life back.
Daniel knows how to covet. But can Jessie help him remember how to cherish?
*Please note that this is a novella-length sequel. Reading Covet before Cherish is highly recommended in order to enhance your reading pleasure.(less)