Snowbound in Montana by CJ Carmichael: In a matter of a less than 100 pages we are transported almost to Marietta but with a family that is very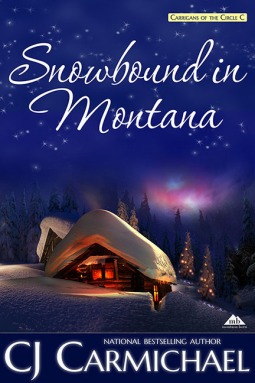 familiar to those who know Marietta, Montana.
This story is about Ms. Eliza Bramble, cousin to the Carriagan's a staple family in town.
The holidays may not always turn out like you plan them, but sometimes it's better that way as we see here. Ms. Carmichael has a way of making you feel the cold, see the stars and (unfortunately) feel the pain of love lost.
This is a sweet romance between two "regular" people who just need to see past what others see in them to see their true selves.
Book Info:

Published October 23rd 2014 by Tule Publishing
When Eliza Bramble signs up for a Christmas mountain ski adventure with sexy mountain guide Marshal McKenzie, she's looking to escape the attention of a two-timing charmer and find some inner peace. Instead, a blizzard traps her in a remote mountain hideaway with Marshall and two other families in need of their own Christmas miracles.
Christmas is looking like a write-off, until Marshall suggests they make the best of what they have, and work together. The avid outdoorsman has a special touch with people…and with Eliza in particular. Soon she realizes Marshall isn't just fixing Christmas — but her broken heart, too.