In Cherish Me, Cowboy (Montana Born Rodeo #2, Wildflower Ranch #1) by Alissa Callen, Cordell is in Marietta to lease land for a herd of cattle he's helping for a friend in Texas. When he unexpectedly comes across cowgirl Payton, all dolled up to help a calf,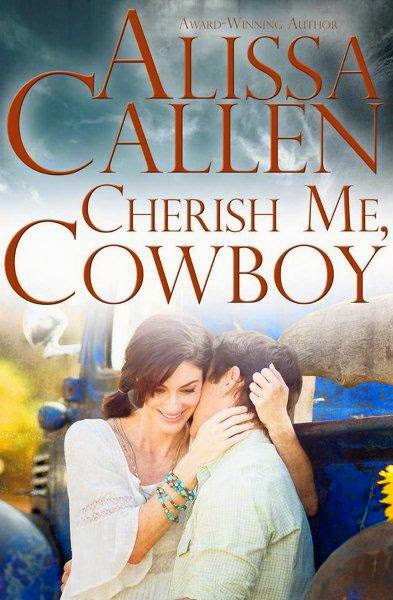 he lends a hand despite her protests.
Payton likes to be in control, and never asks for help. To her that's a sign of weakness. She's on her own and she's happy that way. She has her friends and her ranch, and that's enough for her. Cordell grew up on a ranch but moved away to the city, leaving the ranch in his twin brother's hands. Even if the city doesn't quite fit him, that's his life right now. Now back in ranch land, he's determined to go about his business on his own. Her has more than just cattle business to deal with though, even if he is keeping it a secret.
When circumstances make it so that Payton and Cordell are spending a lot of time together, something about him makes Payton want him to stay around. He makes her feel things she hasn't felt in a long time. Cordell is determined to keep emotions out his life though. To him having emotions means he is weak. "To survive he couldn't allow himself to feel. No matter how high the stakes were."
Can Payton break through the walls Cordell has erected so solidly around his heart? Is there enough in Marietta to make Cordell want to stay after all?
Cherish Me, Cowboy is a fast paced, well written romance with a definite western flare! I love Alissa's descriptions of the ranch and life working the ranch. Payton is an independent, driven woman who has her own fears. Cordell is a bit of a mystery for much of Cherish Me, Cowboy. He has a past that has greatly impacted his life as an adult and while I could understand this, I was still a bit unclear on why he was how he was…I felt like something else must have happened. I would have liked a bit more background on his relationship with his brother. I did really like the connection Payton and Cordell cautiously forged, and how it gained strength despite their resistance.
It was fun to be back in Marietta and meet old and new characters. Henry is a strong secondary character in Cherish Me, Cowboy who plays a significant role.
Alissa managed to catch me off guard and keep things moving along well in Cherish Me, Cowboy, and I like how this story came together. Cherish Me, Cowboy stands well on it's own, and I'd recommend Cherish Me, Cowboy to any romance reader.
Book Info:


Published September 2nd 2014 by Tule Publishing | (Montana Born Rodeo #2, Wildflower Ranch #1)
Working cowgirl, Payton Hollis, has no time for hairdryers, heels and helplessness. She must save her home, Beargrass Hills Ranch. She also has no time for men. She already is boot-deep in blue-eyed cowboy trouble.
City-boy, Cordell Morgan, isn't who he seems. His fancy suit and slow smile hide dark secrets. Secrets as to why his hands are callused, why he never stays around and why he has really come to Marietta, Montana.
Between a shrewd old rancher, a cantankerous rodeo horse and a stud bull called Trouble, Payton and Cordell have no chance to lead separate lives. No matter how much their futures may depend upon them doing so.
Can a sassy cowgirl lower her guard for a man who will soon be gone? And can a man who believes emotions are nothing but a liability take the ultimate risk?