Country at Heart by Mandy Magro: Summer is everything her name declares her to be, young, free and passionate. The daughter of the town mayor just home after earning her degree isn't really "allowed" to be that way though and her father is determined she should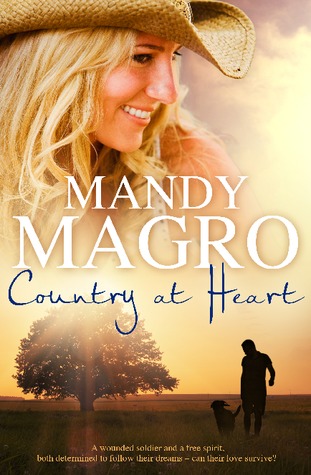 be who he wants. In this case she should marry his best friends son and become an accountant. Summer has other plans though, like opening her own yoga studio and falling in love.
Dean has been through the ringer. A solider fighting the war in Afghanistan he's lost his mother, his father has become disabled and disheartened and his love has cheated on him. Things are not turning out the way he imagined. However he still has Indy, his dog, and of course his family. He is determined to make things turn out right even if it means never giving out his heart again.
When Summer and Dean meet it's almost as if the boy and girl from the opposite side of the tracks are colliding. They are both hiding something but neither want to admit what that something might be. They both know though that the other is something/someone special. The bigger question is with everything going against them is fate enough to keep them together?
Ms. Margo has a way with words. Her descriptions of everything from the landscapes to the action to the characters make everything come to life. Which when you are dealing with war is not always a good thing. This novel made me do everything from reach for tissues to wanting to release my insides. Which sounds and was kind of gross but that's how vivid some of the descriptions were. This is not a novel for the faint of heart and it is complicated, not a light read. There are several different subplots all enhancing the overall story arc but it is a lot to take in.
Overall this is a great book, but it does take some grit to get through it, but once you do you know it's been worth the journey.
Book Info:

Publication: September 1st 2014 by Harlequin MIRA
A wounded soldier and a free spirit, both determined to follow their dreams – can their love survive?
The Army, protecting the country he loves, and his dearly beloved explosive detection dog Indy are Dean's life – he can't imagine doing anything else. But life has other plans for Dean when he and Indy are wounded in action in Afghanistan and sent home to his family's seaside horse property, Whispering Meadows, to heal.
Free-spirited Summer has agreed to spend one last holiday with her parents at their luxurious vacation home, despite her father's resistance to her plans for her career. But events take an unexpected turn when Summer and Dean meet and discover that love at first sight truly exists.
But can they overcome the very real challenges of coming from different sides of the tracks? And when Summer has to face the unpleasant truth about an old friend, as well as come to terms with the after-effects of a bewildering assault, she has to make a heartbreaking decision about their relationship. Can Dean's love ultimately sway her?
'A timeless tale of love and war brought to vivid life from war-torn Afghanistan to country Australia' – TONY PARK, author of The Delta and Ivory