Choosing You by Stacy Finz is the eleventh book in the Nugget Series and was fine reading as a stand-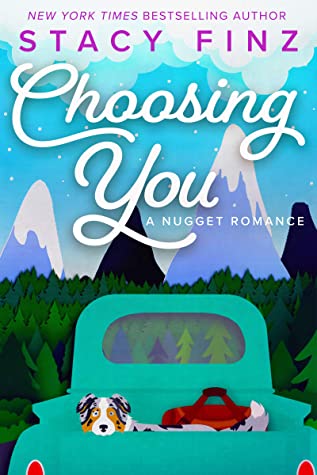 alone. It was a slow burn romance full of emotions and I was instantly drawn in by the warm-hearted characters and the town of Nugget. I loved the kindness and warmth the people in the small-town showed toward newcomers. They welcomed, encouraged, and enfolded them into their community. The book was beautifully written and flowed smoothly. The plot of the story and the characters seemed real-life and genuine.
Recently divorced Ethan Daniels and his six-year-old daughter, Roni, had moved from the city to the small town of Nugget, CA. His work as a children's orthopedic surgeon doing clinical trials with stem cells repairing bone fractures was world-renowned. His ex-wife Joey had finished her rehab and wants to try to save their relationship, but Ethan had already moved on realizing their marriage had been over for a long time. Joey was allowed supervised visitation with Roni but eventually, they would have split custody, which Ethan was not looking forward to. He liked Brynn when they meet but knew he had to keep their relationship strictly professional.
Brynn Barnes's husband had died eight months prior in an all-terrain vehicle accident which also left her son Henry severely injured and unable to walk. Henry had been referred to be a part of Ethan's clinical trials, so Brynn and Henry left Manhattan to stay in Nugget. Brynn had to take over their large marketing firm, Barnes Group when her husband died so she could not be away from Manhattan for too long. She had always worked more in the advertising side of the firm and enjoyed it more than the management side. The small town of Nugget was the opposite of what Brynn knew but she fell in love with the community and their camaraderie. Brynn's parental love and helplessness in healing Henry tugged at my heart. She wanted him to heal and be able to do everything he wanted to do but the therapies left to try were limited.
The relationship between Brynn and Ethan was slow-burning. The chemistry between them could be felt from the beginning. They knew they lead different lives with successful careers on the opposite sides of the country and Brynn would eventually return to Manhattan but that did not stop their love from growing for each other. This was an amazing book and left me smiling at the end although I really would have loved the epilogue to have been more into their future. I would love to see how they were able to mesh their lives and families together. I look forward to more amazing books from this charming small-town and author.
Book Info:

Publication: February 9, 2021 | Kensington Books | Nugget #11
These newcomers to Nugget have left painful pasts behind them—just in time to embrace a future together . . .
Picturesque Nugget, California, couldn't be more different than the glittering caverns of Manhattan, but Brynn Barnes is grateful for the change. After the accident that took her husband's life and seriously injured her young son Henry's legs, a clinical trial from a pioneering young doctor offers Brynn hope that Henry may walk again. And even as the magnificent landscape and the town's hospitality help mend Brynn's broken spirit, it's a certain handsome surgeon's compassion that soothes her aching heart . . .
Reeling after a bitter divorce, Ethan Daniels has brought his medical practice and his young daughter to Nugget, where he hopes its homey warmth will ease the transition to a family of two. A new relationship is the last thing he should be thinking about. But Ethan can't help his immediate attraction to beautiful Brynn—or the feelings she's awakening in him. For two people battered by life's cruelest blows, love may be the perfect prescription . . .