The Rebel by Kendall Ryan: Every girl loves to chance a bad boy but one night six years ago one of the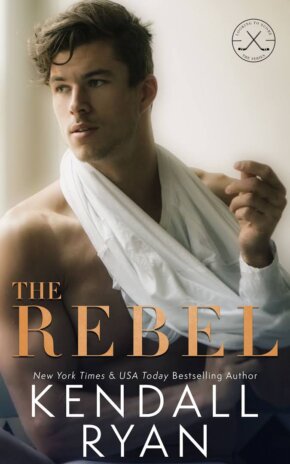 best guys saved Eden from making a huge mistake, it's just a shame that she made her biggest mistake by running out on the right guy. Fast forward six years Eden is starting over, after having a very public break up with the very same bad boy that she had been crushing on back in college. Now she finds herself taking over as owner of a huge professional hockey team after the passing of her beloved grandfather. With all these big changes Eden is about to be dropped with two more biggies; not only is her ex Alex just been signed on to the team but more importantly her new bodyguard is non other than Holt Rossi the guy she let slip away! Eden has always been the one that got away but this time Holt is ready to fight for the one women that called to his heart.
"I don't know how I got lucky enough to find you again, Eden."
I am a huge Kendall Ryan fan and The Rebel has easily rocketed to the top of my favorite sports romance novels. I instantly loved both Holt and Eden, right from their first meeting you could tell that they had a great connection that will only grow more steamy. I absolutely love a good second chance romance and watching Holt and Eden find their way back to each other was just swoony!
I absolutely loved Eden and that she was such a girl boss in a male dominated industry. I loved her never back down attitude even in those situations that were a bit hectic. Though the real star of this book has to be Holt, he was the perfect swoony sweetheart hero that steals your heart. I loved his protective and caring nature and that he didn't shy away from showing Eden how he felt about her. I loved watching Eden grow closer to Holt and getting to see that she let go of the perfect guy all those years ago.
The Rebel is absolute must read for me, this second chance/bodyguard romance will steal your heart and have you swoony from start to end! I can not wait to see what Ryan has planned for next in the Looking To Score series.
Book Info:

Publication: March 30th 2021 | Kendall Ryan | Looking to Score #1
I never thought I'd see her again.
We shared one hot night together back in college before our paths took us in different directions.
But now, the most brilliant and beautiful woman I've ever met is back in my life. And the chemistry I remember? It's more combustible than ever.
Except…our fling is forbidden and must exist only in secret. Her rules, not mine.
I can't be her forever. I'm not that guy, and even she knows it.
But I can't stay away from her either. I'm determined to claim not just her body but her heart, even if that's the one thing she's vowed not to give me.