Chosen as the Sheikh's Royal Bride by Jennie Lucas: Omar is handsome, sexy, smart, and dedicated to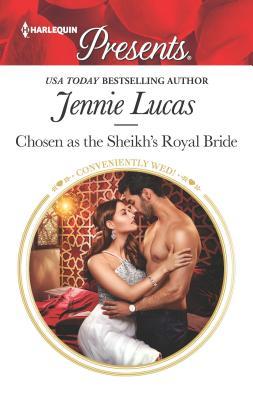 doing right by his country. He's the only one left in his immediate family and it's time for him to find a wife and start a family. He rejects the one bride that is probably the obvious choice in favor of returning to the old custom of a bridal market. Between his parents' relationship and his own history, he's not looking for love but a partner who will help him lead his country forward.
Beth is selfless, generous, and charmingly blunt. She speaks her mind except for when it comes to dealing with her brilliant twin sister. Beth has always felt like the plain, ordinary twin since she isn't the accomplished genius her sister is nor has she found something she's truly passionate about.
Beth is surprised to learn her sister agreed to participate in the bridal market due to her dedication to her work, but then even more surprised to learn Edith expects Beth to go in her place. Beth reluctantly agrees to play along, as she expects to be ruled out as a contender early on. Except both Beth and Omar feel the immediate pull of attraction and she captivates him with her honest and forthright assessment of the experience.
"I made it to the top ten?" she whispered. It was so unexpected she hugged the thought close to her chest.
The sheikh frowned at her. "You are not pleased?"
Beth's feelings were so mixed up she hardly knew how she felt. "Um…are you sure it's not a mistake?"
He snorted, then tilted his head, considering her. "You are different."
Omar is conflicted about his options of brides. He's drawn to Beth as she's different from all of the other women there, but she's also very unlikely to be approved by his royal council. Despite the odds, Beth keeps moving forward and they grow closer. She makes him feel and he makes her feel special and desired. Everything changes when Omar actually does pick her for his bride and she's truly thrown into his world with a new language and new culture when there is so much they don't know about each other.
"I love my country. There's no room in my heart for anyone else."
Turning away, Beth gently set down her goblet. "It's funny. You don't even want to be loved. While I've dreamed of it my whole life, of being someone's most important person. And someday, after I leave here…" She lifted her chin. "Someday, I'll find some one who loves me. And we'll love each other forever."
Chosen as the Sheikh's Royal Bride is an entertaining, slow burn, royal version of The Bachelor. Jennie Lucas created a diverse cast of characters with quite the group of potential brides with a variety of motives. Ms. Lucas provided humor, anticipation, romance, and surprises. Fans of Sandra Marton and Melanie Milburne will enjoy Chosen as the Sheikh's Royal Bride.
Book Info:

Publication: March 19th 2019 | Harlequin Presents |
Swept from her ordinary world…
into the royal bedchamber!
Among the many beautiful, accomplished candidates hoping to be chosen as Sheikh Omar's wife, shop assistant Beth can't believe this powerful desert king would even notice her. Yet Omar does select her—and his heated gaze sets her alight, making her innocent body crave caresses she's only dreamed about! She's instantly thrown into his world of unimagined luxury, but can this shy Cinderella ever be a queen?
A Cinderella story with a royal twist!