In Heart of the Devil (The Forge Trilogy #3) by Meghan March , Jericho Forge has been up against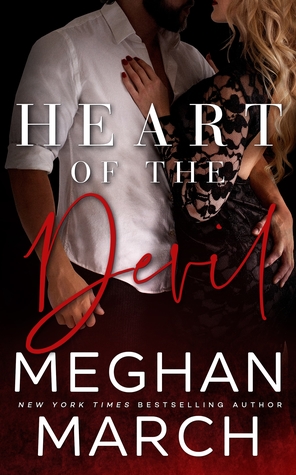 some extremely unfavorable odds in his life and has always come out on top. If there's anything he's learned over the years, it's how to win. At any cost. But a spitfire of a gorgeous woman may very well be his undoing. India Baptiste owns Jericho's heart with her attitude, her prowess at the poker table–and the glimpses of a vulnerability she hides from everyone. He's seen it, though. And he's willing to do whatever it takes to keep Indy safe and to win her heart for good.
'I may not be good enough for her or deserve her, but I will spend a lifetime learning to be the man she needs me to be.'
A man like Jericho Forge–unapologetically alpha and too sexy for his own good–is exactly who Indy should steer clear of, given her tumultuous past. But no matter what she does, she's drawn back to him again and again. And with them tied together in more ways than one now, when her man is in danger, Indy jumps into action. Lies must be sorted through as shocking revelations hit both her and Jericho. Through it all, though, her gut is telling her it's okay to give her heart to him. It's her head that is trying to stop her from taking such a huge risk. And Indy isn't sure which will win out.
'Since the moment I first saw Jericho Forge, he's been the very definition of larger than life. Untouchable. Practically immortal. I can't stand, even for a second, to picture him hurt or in danger.'
Heart of the Devil was the thrilling conclusion to Meghan March's pulse-pounding Forge Trilogy and *wow* was it worth the wait! With dramatic plot twists I didn't see coming from a mile away, duplicitous characters, and a whole lot of revenge on everyone's mind, the earth-shattering romance between Forge and Indy was the absolute icing on the cake.
"I need you. My hands on your body. Your taste on my lips. Your breath against my skin. I need to feel you. Feel that you're safe and everything's going to be okay."
This trilogy is one that you definitely need to read in sequential order. And now that the final book is out, it's safe for readers who aren't fans of cliffhangers–or waiting for the next installment to come out–to snatch this up. You won't regret it. There are so many layers to this trio of books, with the dynamic characters who overcame tragic backgrounds through strength and force of will. Indy and Forge were both powerhouses and I loved their fiery connection. Tons of passion and attraction mixed with a touch of animosity, along with them both grappling for the upper hand turned their journey into, well, a bit of a hot mess, but it was one heck of an enjoyable, sizzling good time.
After the shocking way book two (Luck of the Devil) left off, I had no idea how things would ever be sorted out in one final installment. There was so much still left up in the air. But March somehow wrapped it all up perfectly, considering this book started exactly where the previous had left off. After lots of tense scenes–even some filled with exciting action and suspense–Forge and Indy made some bold decisions, which I didn't always agree with, making it more difficult for them to remain together. I was impressed with how far they had come individually since first meeting, though. And how *right* they were together. Indy was still still whip smart and as kickass as always but had to learn to trust her gut again and to figure out it was okay to take a chance with her heart. Forge…he had some pretty tough setbacks here, but I loved watching the alpha hero get taken down to a peg or two over his love for Indy as well as seeing the huge sacrifices he would make on her behalf. Seriously swoon-worthy.
A smexy, over-the-top novel I couldn't put down, Heart of the Devil was a shining example of Meghan March's complex, completely addictive work. And one of the many reasons why I will continue to be a fan.

Book Info:

Publication: March 12th 2019 | Red Dress Press | The Forge Trilogy #3
New York Times bestselling author Meghan March concludes the Forge Trilogy in Heart of the Devil. In this final volume, ruthless billionaire Jericho Forge faces his toughest challenge. To emerge victorious, he'll have to give up the one thing he's never offered a woman – his heart.
It started as a game. She was nothing but my pawn.
But I was quick to see the error in my ways, and now she is everything I never knew I needed.
The value of a woman like India Baptiste is beyond measure.
But the problem with being a man like me? I've already screwed this up, and there's no guarantee India will take me on for one last bet.
I'll do whatever I have to do. Drop to my knees and offer her the only thing I have left. The one thing that's only ever been hers—the heart of the devil.
Heart of the Devil is the third book of the Forge Trilogy, and should be read following Deal with the Devil (Book 1) and Luck of the Devil (Book 2).