In Christmas at Carriage Hill (Swift River Valley #3.5) by Carla Neggers, Moving to a small village outside of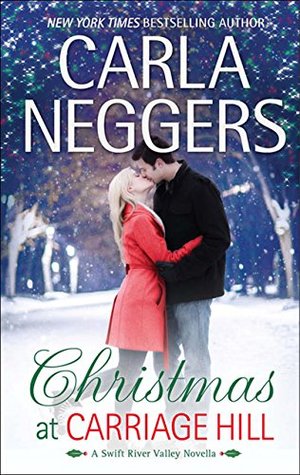 London was the right thing to do for fashion designer Alexandra Rankin Hunt. She wanted to concentrate on her designs, not the latest gossip in the city. But moving to Cotswold also brought Ian Mabry into her life. A confident, rakishly handsome fighter pilot in the RAF, Ian got under her skin quicker than anyone else ever had. Then he was gone, leaving Alex to mend her broken heart over yet another break up in a string of miserable mistakes.
'She did not need to be another of Ian Mabry's conquests. She refused to let him think she was still pining for him, because she wasn't. Not a bit.'
Traveling to quaint Knights Bridge, Massachusetts, this Christmas for a family wedding is just what Alex needs to get her mind off of Ian. She's ecstatic to be designing the dresses and can't wait to learn more about her great-grandfather's time in the small town decades ago. Somehow, though, Ian has wormed his way into an invite to the wedding. Just when Alex thought she had begun moving on from her heartbreak, the sexy airman is back in her life full force. Does she have a chance of ignoring him with so much love and joy in the air?
"We overcomplicated things and got cold feet not because we were falling out of love but because we were falling deeply in love. It's true, isn't it, Alex?"
"It is," she whispered.
Christmas at Carriage Hill is a sweet holiday romance novella set in the charming town of Knights Bridge, Massachusetts. In a story where the past and present collide, Alexandra and Ian find themselves swept away by passion while contemplating their individual futures.
If you're new to the Swift River Valley series, it may be a bit confusing jumping in with this short story. There are a lot of characters and quite a backstory that draws them all together which might be difficult to understand here. That being said, the overall focus is really on Ian and Alex having a second chance at romance while visiting America for a wedding. Carla Neggers did a great job of conveying their passion for each other and sharing that magical feeling of being involved in a family wedding.
Neither Alex nor Ian were able to deny their emotions as they were caught up in the charm of Knights Bridge and it's townspeople. I loved that Alex felt such a strong connection to her late fighter pilot great-grandfather while she was falling for Ian, a current member of the Royal Air Force. The circumstances behind her great-grandfather's love affair may have been dramatically different, but the sense of history repeating itself, with a happier outcome, was so strong. The ending as well was very romantic and touching, showcasing Ms. Neggers' ability to capture those perfect moments when everything falls into place. *happy sigh*
I think fans of the Swift River Valley series will happily fall for Alexandra and Ian in this lovely, and quick, romance.
Book Info:

Published December 1st 2014 by MIRA | (Swift River Valley #3.5)
Celebrate the holidays with this magical Swift River Valley novella from New York Times bestselling author Carla Neggers
When fashion designer Alexandra Rankin Hunt is asked to create the dresses for Olivia Frost's Christmas wedding in tiny Knights Bridge, Massachusetts, she jumps at the chance. She's certain she'll never get to design one for herself; not with her history of falling for the wrong men. Ian Mabry, the sexy fighter pilot whose bravery reminded her of her beloved great-grandfather, was the worst yet.
To Alexandra's surprise, Ian is also at Carriage Hill, Olivia's picturesque country inn. And if anyone can charm his way into a wedding, it's him. Ian wants more than an invitation he's determined to find a way back into Alexandra's life.