Christmas Where They Belong by Marion Lennox: Julie McDowell was just going through the motions and had been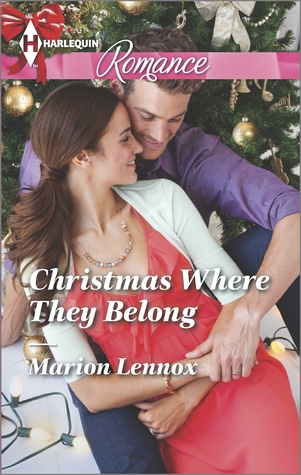 for the last four years. She could never seem to bring herself out of the grief that had over taken her four years ago at Christmas. Should she have died as well? She was responsible for the deaths of her twins, wasn't she?
Rob McDowell had been living with his grief for the past four years as well. He wasn't dealing with it well, but at least he was trying to move forward with his life. That didn't mean he didn't feel, or that he didn't love his wife though.
When fire threatens to destroy their family hideaway Julie and Rob are forced back together with nowhere to run but into each other's arms. What a fickle friend fate can be as not only are they "stuck" with one another but over Christmas time as well?
With a massive brush fire, a young boy, a VERY pregnant woman and a dog, these two have all sorts of roadblocks but will they lead to a Happy Christmas? Or will Santa be leaving coal for these two?
Christmas Where They Belong by Ms. Lennox is one of the most heart wrenching books I have ever read. It will tug on your heart and will make you reach for several boxes of tissues. The issues that Julie goes through are so real and so vivid that it's almost like the reader is there and in the mind of her. This book is more than a love story, which it is and thankfully does have a happy ending, it is a story of healing, of moving forward and realizing that whatever may come your way you can move on and you don't have to forget.
Book Info:

Published December 2nd 2014 by Harlequin Romance Series #4452
A love worth fighting for…
Julie and Rob McDowell couldn't imagine life without each other. Until a tragic accident tore their family—and their marriage—apart.
For four years they've been living separate empty lives. Yet when news breaks of a bushfire heading straight for the Blue Mountains both are compelled to return and protect their past.
But now they're stranded together for Christmas! And suddenly Rob is determined to prove to Julie that there's something else worth fighting for: their future…