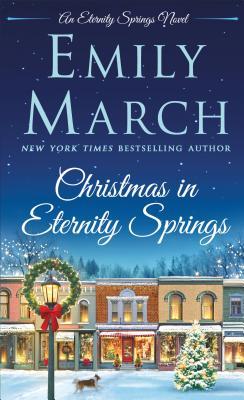 In Christmas in Eternity Springs: An Eternity Springs Novel (Eternity Springs #12) by Emily March, for years the Christmas season has been painful for Claire. Just as things were starting to turn around for her and the season was looking better, life threw her another curve ball and threatened to take away her Christmas spirit again. Determined to move on and start over, Claire moves to Eternity Springs to open up a Christmas shop of all things and quickly becomes a part of the community. She is not looking for love or a relationship, but the new man in town and his son are pulling on her heart strings.
Jax has always been career Navy. But life can change fast, and he's now out of the Navy, raising his son after the death of his ex-wife. Traumatized by her death, Jax's son Nicholas has only ever felt happy again during time spent in Eternity Springs. Expecting it to be temporary, Jax and Nicholas move to Eternity Springs. Meeting the owner of Forever Christmas might change everything though. Soon Jax and Claire are finding so much more than either of them expected as they get to know each other and become closer. Jax, Nicholas and Claire are finding a happiness that they never thought they would again…but can it last or will the ghosts of the past threaten the hope of the future?
I really enjoyed this visit to Eternity Springs. Emily March brings her characters to life with their real problems, thoughts, issues and struggles. Jax and Claire both have pain in their pasts and are both struggling to move on. Claire has a lot of inner strength, and she is a very determined heroine! I really liked her, who she was, and that even with her insecurities she was moving forward. Jax brings his own struggles to Christmas in Eternity Springs, and it has not been an easy path to get there for him. I liked seeing where he was before Eternity Springs. Emily shaped his character very well, and his experiences and character growth he showed almost from the beginning really make him a true hero!! I liked how Jax and Claire were brought together, along with Nicholas and the way their relationship moved forward. Watching as the trust grew and hearts opened up was very fulfilling! There is no angst, but there is tension and some realistic drama as Jax and Claire move forward only to have the past pause everything.
With vivid descriptions and strong secondary characters Emily March made Eternity Springs a believable place for me, a place I would love to go to! Nicholas, Jax's son, is a strong secondary character and I loved watching him grow and start to thrive. I particularly love Celeste who is also a strong secondary character seen in all of the Eternity Springs books. I really hope that one day we will find out her story!
With some unexpected surprises and strong characters, Christmas in Eternity Springs captivated me and made me feel that hint of magic, happiness, hope and healing. Part of Emily March's Eternity Springs series, Christmas in Eternity Springs can be read as a stand alone, but I highly recommend the other books in this series also! Any romance reader will enjoy reading Christmas in Eternity Springs.
Book Info:

October 4th 2016 by St. Martin's Paperbacks
Can Miss Christmas find her spirit again?
After a devastating betrayal, Claire Branham packs up the pieces of her life, along with a twenty-million-dollar secret, and moves to Eternity Springs. She opens a specialty shop—Forever Christmas—and, with the help of a surprise romance with the town's sexy new handyman, Claire's heart begins to heal. Until her past comes knocking…
Jax Lancaster never questioned the need to abandon his career as a Navy submariner in order to care for his young son in the wake of his ex-wife's death. Desperate to help with this loss, Jax straps on a tool belt to give Nicholas the one thing he wants: A life in Eternity Springs. What Jax never expected to find a second chance at love with a fascinating woman for whom Christmas has become a business. But when the truth about Claire threatens their newfound happiness, can Jax prove to her that in Eternity Springs, the spirit of Christmas is real. . .and will last a lifetime?