Christmas in Evergreen by Nancy Naigle:  A sweet treat for the holidays!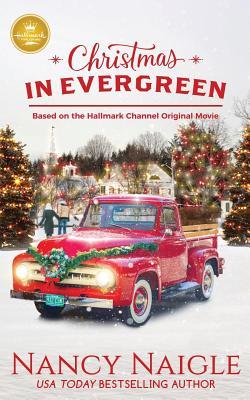 Evergreen, Vermont is the closest thing to an authentic Christmas town you'll find without going to the North Pole. It's Christmas here all year round. But, despite its charm, Allie Shaw is leaving her veterinarian clinic behind to start a new life in the big city of Washington DC. She has a new job and is trying to lessen the distance between her and Spencer, her 'maybe' boyfriend, hoping they can find a way to make their relationship work. But, as she cranks up her old truck, making her way to the airport, forcing her excitement about spending Christmas in the city with Spencer, her heart is holding on to a few bittersweet memories. Could she be having second thoughts?
Ryan Bellamy, a widower, has booked a Florida Christmas cruise in hopes of easing the pain for his daughter, Zoe, of having to spend Christmas without her mother. But, their plans fall apart when the weather turns bad. They end up stranded in Evergreen, Vermont, which feels a lot more like Christmas to Zoe than the palm trees of Florida. Not only that, there is a magical snow globe at the Chris Kringle Kitchen and she's hoping her Christmas wish will come true.
Ryan and Allie are wrestling with adult issues, but I think Zoe has things figured out before they did. Her faith, and trust, is so endearing. She is a fine example to follow. But, Allie's old pick-up truck was almost a scene stealer!
This story is everything you would expect and hope for from a Hallmark publication. It's a light, but poignant story, heartwarming and filled with magical charm without sending the reader into a diabetic coma.
If you need a little nudge to get into the Christmas spirit, this story will cure the holiday blues, and have you humming Christmas carols in no time. But, of course, the message at the heart of the story is enduring all year long, so you don't have to wait until Christmas to enjoy it.
Overall, this is a delightful, holiday tale for all ages!
Book Info:

Publication: 6/10/18 | Hallmark Publishing |
A snowy small town.
A snow globe that grants wishes.
A love that's meant to be.
Evergreen, Vermont is about to be in the rearview mirror of Allie Shaw's vintage red pickup truck. It's hard to say goodbye to her small town and her veterinarian practice, but she's moving to Washington D.C., where her big-city-loving boyfriend lives.
Ever since Ryan Bellamy's wife died, he hardly knows how to celebrate Christmas. He's decided to take his daughter Zoe to Florida, and Evergreen is just a quick stop on the way to the airport. While they're there, Zoe partakes in a local tradition, making a Christmas wish on the snow globe at the town diner.
But neither Allie's nor Ryan's Christmas goes as planned. They've checked their wish lists twice, and they didn't say anything about meeting someone new…or about a fresh chance at love.
This magical, feel-good romance includes a free Hallmark recipe for Vermont Christmas Card Cookies.