Christmas On Reindeer Road by Debbie Mason: Mallory Maitland is moving with her stepsons to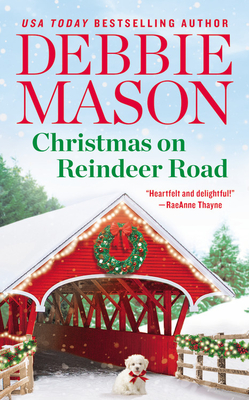 the little town of Highland Falls with hopes of a quiet life after the death of her much older husband. She doesn't even get to their house before trouble ensues. The two teenage boys try to ditch her at a truck stop. They are very unhappy because they have been taken away from their British boarding school and put in Mallory's custody. They blame her, even though their father's first wife has all the money and refuses to pay for the huge expense of the school.
When the boys are not found inside the truck stop, the local sheriff, Gabe Buchanan, is called in. The errant teens are finally found, but Mallory is put on probation by social services with her next door neighbor, Gabe, in charge of keeping a close eye on her.
Gabe left a high powered career as a detective in a large city after his wife died. He wanted to spend more time with his three sons, especially Teddy, the youngest. On top of having to deal with the new next door neighbors, he is stressed out by his mother-in-law who seems bound and determined to gain custody of his boys.
While basically a love story, Christmas On Reindeer Road addresses many issues of love and loss and how it affects in so many different ways. It shows that forgiveness can be hard, but is attainable with great effort. A look at how the elderly should be treated is true uplifting.
This is my first Christmas book of this season. The various festivities that the town does are so lovely and charming. In this time of illness and upheaval, we all really "need a little Christmas" and Debbie Mason's beautiful novel provides it.
Debbie Mason is a very prolific author. I am sad to say I have not read any of her previous books, but I will certainly delve into her back list soon.
Book Info:

Publication: September 29, 2020 | Forever | Highland Falls #2
Fans of RaeAnne Thayne and Debbie Macomber will love this USA Today bestselling author's latest holiday romance about two single parents whose holiday wishes come true in the small town of Highland Falls.
Can the magic of mistletoe bring together two busy single parents?
Mallory Maitland knows all too well what it's like to feel abandoned, which is why she's sworn never to give up on her two stepsons – her late husband's children. But when the teens land in hot water, she's got a whole new problem: how to resist the caring and incredibly hot Chief of Police Gabriel Buchanan. All Mallory wants is to give the boys a magical holiday. She doesn't need the distraction of wondering what it would be like to kiss Gabriel under the mistletoe.
After his wife died, Gabriel left his job as an adrenaline-chasing New York City homicide detective to focus on raising his three sons. But back in Highland Falls, he doesn't have to go looking for trouble. It finds him – in the form of a beautiful neighbor and her troublemaking stepchildren. With Gabriel's mother-in-law looking for any excuse to gain custody of his sons, Gabriel can't risk getting involved with Mallory, even though she's the only woman capable of making this Christmas – and all the rest to come – his best ever.