Close Range Christmas by Nicole Helm is the sixth book in Ms. Helm's Badland Cops series. This has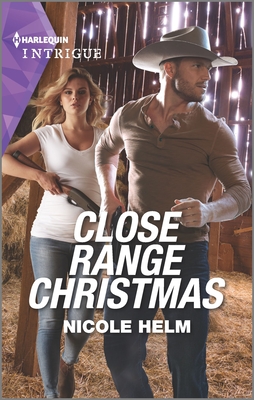 been an exciting series.
Sarah is one of the Knight sisters. Eva and Duke Knight raised all the girls the same but only one, Rachel was their biological daughter. Sarah was the only one to be adopted while the others were fostered. When Sarah was told about her birth parents and why the Knights took her home and adopted her she was devastated. She had been saved from evil then but that evil has resurfaced in her life. Not the best timing. Here she is nine months pregnant and forced by threats from the evil one to hunker down at the Reeves Ranch with Duke, her sisters, Grandma Pauline and the Wyatt brothers. Her sisters were all either married to or living with a Wyatt brother. Duke had high hopes Sarah would be the lone standout. Nope. She wanted to have a baby, her own flesh and blood to love so she talked Dev Wyatt into giving her that baby. She told him she planned to raise the baby on her own but hoped in the end Dev would step forward and be in the baby's life and maybe in hers too. First this danger had to be addressed.
Dev Wyatt was saved from his father, Ace Wyatt, head of the biker gang the Sons of the Badlands and the brutal life he was subjected to there by Ace. His older brother Jamison got him and all his brothers out of their father's clutches and out of the biker camp. Dev was the first of his brothers to face Ace again after their escape. He had been a police officer and had the false confidence he could arrest Ace on his own. The result of that mistake left Dev nearly beaten to death by his father and having to give up police work because of his injuries. Dev ended up running his Grandma Pauline's ranch and he is satisfied with that but his confidence in himself was shattered and he was a broken man. His rise from that broken man could be attributed to his family and the Knight family, especially Sarah Knight. Maybe that's why he agreed to father a baby with Sarah. Now that evil and danger are breathing down their necks and Sarah is so close to giving birth to their son Dev knows he needs to step away from the past and become the man he needs to be.
Close Range Christmas by Nicole Helm is the sixth book in Ms. Helm's Badland Cops series. This has been an exciting series. Each Wyatt has his baptism by fire along with one of the Knight girls by his side. This is Dev Wyatt and Sarah Knight's story. I loved how Sarah stayed strong and helped Dev come back from the injuries inflicted on him by his evil father and helped further his confidence in himself through the years. She was the foundation to his enlightenment and love. There is lots of suspense and action in this story. I liked the surprises along the way and the end results.

Book Info:

Publication: November 1st 2020 | Harlequin Intrigue | Badland Cops
Their Christmas baby is on the way.
And so is an obsessed killer…
Dev Wyatt's worst fear has come true. Someone from the Wyatts' dangerous past is stalking his family—and his best friend, Sarah Knight. When she asked Dev to help her have a child, Sarah did not expect her pregnancy would place her in danger, but now Sarah must take shelter on the Wyatt ranch. As she and Dev battle escalating threats, will they survive long enough to become a family?