Christmas Vendetta by Valerie Hansen is the fourth book in her Emergency Responders series.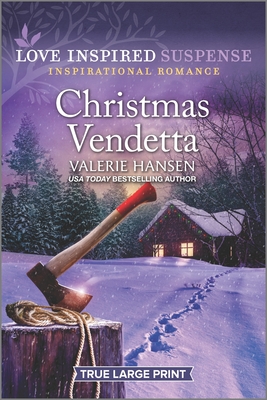 Sandy Lynn Forrester met Clay Danforth when she was living in a foster home and Clay's family lived in the house next door. At the age of sixteen she fell in love with Clay but he broke her heart when he left to join the Air Force. Impulsive by nature, Sandy Lynn made a big mistake after Clay left. She ran away from her foster home and eloped with Charles Hood and endured his abuse for way longer than she should. When Charles went too far Sandy Lynn pressed charges and Charles was sent to prison.
Now Sandy Lynn is a teacher and her roommate, Enid, is a nurse. When Sandy Lynn heard strange noises coming from Enid's room in the middle of the night she ran into Enid's room to find a masked man attacking Enid. Sandy Lynn struggled with the attacker and fortunately was saved when a neighbor stepped in and chased the attacker away.
Oh no! It couldn't be Clay Danforth! But it was. Why? An ambulance arrived to take Enid to the Emergency Room. When Enid was coherent she indicated that the attacker was really after Sandy Lynn. From that point on danger followed in Sandy Lynn's footsteps and so did Clay who promised to keep her safe.
Clay Danforth left home at eighteen to join the Air Force. Doing so broke Sandy Lynn Forrester's heart. After hearing a suspicious scuffle in the middle of the night Clay raced to his neighbor's apartment where the sounds were coming from and was shocked to find Sandy Lynn hitting a masked man with a golf club. The attacker ran when Clay identified himself as a policeman which he did because he felt that would help diffuse the situation. What was going on? Clay had recently left the Springfield Police Department after being falsely accused of mishandling evidence. He couldn't get involved in the investigation of the attack but he could stick close to Sandy Lynn to keep her safe. He was confident he could keep Sandy Lynn safe, but not so confident he could keep his heart safe.
This is an exciting, action-packed suspense story. I really enjoyed meeting the two main characters Sandy Lynn and Clay. They are both very likable characters. Sandy Lynn has an abusive relationship she needs to put in the past before letting Clay in. Clay knew he made a mistake leaving Sandy Lynn when they were younger. I admired his determination to make things up to her and to keep her safe. This is a great addition to the series.
Book Info:

Publication: November 30th 2021 | Love Inspired Suspense | Emergency Responders #4
From USA TODAY Bestselling Author Valerie Hansen
Is she a mistaken target…
or next on an enemy's hit list?
Sandy Lynn Forrester's Christmas holiday takes a terrifying turn when someone breaks into her home and attacks her roommate…thinking it's her. But no one believes that an imprisoned man from Sandy Lynn's past is behind the attacks—except for her high school heartbreak, ex-cop Clay Danforth. Can she trust Clay to keep her safe in the Ozark wilderness long enough to stop a ruthless criminal's vengeance?
From Love Inspired Suspense: Courage. Danger. Faith.