In Christmas with her Bodyguard by Charlotte Hawkes, Major Myles Garrington needs the gig of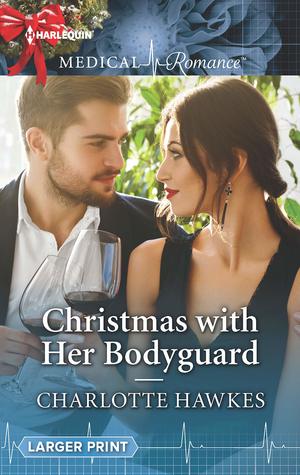 playing bodyguard to Rae Rawlstone. However, he never imagined the attraction they once shared would still be as fierce years later when they meet again. Yet, Myles is determined to ignore the attraction because he has a job to do and that's to keep Rae safe. But staying away from Rae isn't as easy as he thought it would be. Will Myles and Rae be able to make a relationship between them work or will history repeat itself with one of them walking away?
"Who would have thought that you would object so vociferously to a bodyguard when your life might be in danger from a stranger," he murmured darkly, "yet leap at the chance to have one when you're in the sights of mere family."
"Given that you've done little to hide your opinion that my side of the Rawlstone family is trashy, I can't imagine you're really all that surprised."
What an interesting, fast-paced, surprising and entertaining read Ms. Hawkes takes readers on with this book where the main characters have quite the history that makes the heroine annoyed that Myles is the bodyguard assigned to watch over her; the main characters have interesting back stories that have the heroine trying to make up for past mistakes and the hero deciding what to do about his future; the dialogue was riveting and had me liking how these two interact; and everything this couple go through on their journey to happy ever after made this story fast-paced.
The way this story started had me liking the heroine immediately, as she's determined to fight her brother tooth and nail on what he wants for her. Will she get her way? Since she's fought too hard to gain her independence and break away from the horribleness that is her family. However, it was from the moment the hero and heroine come face-to-face for the first time where this story really gets interesting because the heroine isn't thrilled that Myles is going to be her bodyguard, especially after what happened between them in the past. He hurt her badly and made her feel trashy and he's even more cynical now after the scandal that almost ruined her.
"It is admitting you can't cope," he bit out, suddenly.
She snorted scornfully. And loudly. Not even trying to suppress it. "Of course it isn't. Stuffing it all down and letting it eat at you like some kind of acid from the inside out is weak. Refusing to talk about it when it's clearly killing you is weak. Deliberately putting yourself through night after night of hellish nightmares is weak."
With the main characters, the hero is sceptical of anything the heroine says when it comes to her past and the scandal that ruined her life and still feeling like it's having an impact on it, which is understandable, considering she never did anything to defend herself when it came to what happened. Why did she not defend herself? I also liked how determined the hero was to protect the heroine, especially when it came to those of her family that are horrible and don't deserve to have such a good person like Rae in their lives. Really, the only one nice in her life is her brother. While the heroine, she's resilient, courageous, hard-working and I liked how she's done her best to overcome the past, even though it seems it's in the back of her mind how naïve she was when she was younger.
Overall, Ms. Hawkes has delivered a really good read in this book where the chemistry between this couple was strong and tangible from the moment they meet, the romance was delightful and had me loving that these two gave each other a chance after what happened between them in the past that led to the heroine making the bad decision that she did; and the ending had me loving what Myles does to win the heroine's heart because he knows he needs to find a way to be able to move forward from what happened to him. I would recommend Christmas with her Bodyguard by Charlotte Hawkes, if you enjoy second chance romances, medical romances, the enemy to lovers trope, or books by authors Marion Lennox, Scarlet Wilson, Susan Carlisle and Sue Mackay.

Book Info:

Publication: November 2oth, 2018 | Harlequin Medical |
From temporary protector…To love of a lifetime!
Obstetrician Rae Rawlstone has worked hard to distance herself from her fame-seeking family and scandalous past. Only now her past is catching up with her–because she's spending Christmas under the protection of former army surgeon and first love Major Myles Garrington! Behind the shadows of her bodyguard's gorgeous eyes, Rae recognizes they have more than chemistry in common. Could learning to trust one another lead to happy-ever-after?