Defending Chloe (Mountain Mercenaries #2) by Susan Stoker: Ronan Cross, one of the members of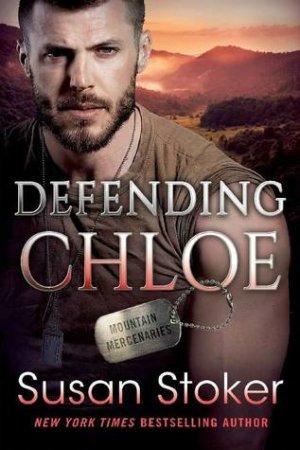 Mountain Mercenaries met Chloe Harris when she walked up his driveway and asked to use his phone. He thought there was something strange about this since he lived in a rural area and he didn't recognize her as one of his neighbors. He let her make her call but was concerned about her. She looked scared and his "woman in trouble" radar pinged when he saw the big bruise on her back. He offered his help. She declined.
Fortunately she had told him her name so he and the other Mountain Mercenaries could investigate her. Turns out she is the sister of the very crooked, very nasty Leon Harris who has ties to the Cosa Nostra, the Mafia. Ronan was sure Chloe needed help. Chloe needed a lot of help. The Mountain Mercenaries were determined to make sure she got that help. It wasn't easy but, for Ronan, it had to be. He was attracted to her.
Defending Chloe by Susan Stoker is the second book in her Mountain Mercenaries series. She always writes lots of action and suspense plus strong heroines and heroes. This story has all that and more. I just couldn't put the book down. There is just something about Susan Stoker's writing style that grabs my attention from the beginning to the end of her stories every time.
I just love how the heroine is a "damsel in distress" but still is a truly strong woman. Chloe defintely fits into this category. Yes, she most certainly does. You gotta watch out for her. Yep, she bites.

Book Info:

Publication: December 4th 2018 | Montlake Romance | Mountain Mercenaries #2
Love is the best defense in New York Times bestselling author Susan Stoker's explosive Mountain Mercenaries novel.
Gorgeous women don't just stumble onto Ronan Cross's remote property. But this one—vulnerable, victimized, and needing the kind of help only Ronan can offer—tells a story that makes his blood boil almost as hot as his need to protect her.
Since her father's death, Chloe Harris has become a prisoner. Her own brother, a flesh peddler and low-level player in the Denver Mafia, is forcing her to sell her body for an endgame Chloe never saw coming: control over a vast fortune. Her only way out is to run—straight into the arms of the one hard-bodied man she can trust.
Defending Chloe could rain punishment down on the Mountain Mercenaries. Her brother has Mob connections and the local police in his pocket. But Ronan still has an edge—the unshakable loyalty of his deadly teammates. As well as an unquenchable thirst for retribution…and Chloe.