Cinderella and the Billionaire by Marion Lennox: One lonely boy suddenly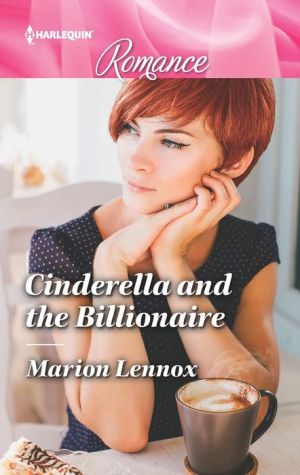 on his own and two strangers who are about to realize the world is much bigger than they are.
Meg O'Hara was lonely. She hadn't been, not really, but now with not a single family member left she didn't know where she stood. What would she do if she stopped doing what she always had. How would she move on from her life without falling forward? Could she take that leap?
Matt McLellan was happy. He was accomplishing his goals, he was making an outrageous amount of money and he didn't have a thing to complain about, right? Then for some reason this little boy kept clawing his way into his heart. How was that even possible? Then all of a sudden the world shifted it's axis's.
Meg and Matt had no idea was a four hour trip would turn into. Maybe not quite Gillian's Island but with the foursome and two pups who knows what was going to happen.
Here's the very hard part of this book. I immensely disliked Matt McLellan. That being said the book had me drawn in and I kept hoping Ms. Lennox would help me to change my brain about him. The title doesn't make a ton of sense with the book either, but that could be because I'm a huge Cinderella fan.
Ms. Lennox has delivered a good story though as I kept reading it to see how the plot faired and you really feel for Henry and Peggy. In fact though both secondary characters they pulled at my heart more than Meg and Matt. Overall though this is probably worth a pass.
Book Info:

Publication: Published July 2nd 2019 | Harlequin Romance |
From different worlds…
…to the perfect family?
Entrusted to take his late colleague's young son to his grandmother, Manhattan financier Matt McLellan hires down-on-her-luck skipper Meg O'Hara to take them across Australia's Bass Strait. He might be a billionaire, but aboard Meg's boat she's the boss! The flame-haired beauty gets under the committed bachelor's skin and by the time they reach their destination, Matt's wondering if he's finally found the family he never knew he needed…