In Good Guy by Kate Meader, Levi Hunt has become the oldest rookie in the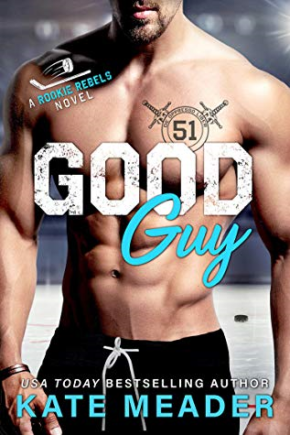 NHL at the age of thirty, after serving with the Green Berets. His story is the talk of the NHL, and the Rebels want to capitalize on it. They hire journalist Jordan Cooke to cover his story. The problem? Levi doesn't want his story, especially by the widow of his best friend in the service. The same widow who kissed him the night of her husband's funeral, and the same widow he's wanted since he first met her.
Jordan figures it will be tough to get the normally stoic Levi to talk. What she doesn't expect is to develop feelings for the guy. Her job is dependent on providing a compelling story, but will she be able to put Levi's feelings aside to accomplish her job?
I liked Levi. He doesn't want to be called a hero. He doesn't want everyone to know that he gives back to community by volunteering at a homeless shelter. All he wants to talk about is his hockey. He doesn't do anything to get accolades.
I had more of a hard time liking Jordan. First, I found it odd that she kissed Levi on the night of her husband's funeral, and even admits she would have let it gone further if Levi hadn't stopped it. There's never any explanation for her behavior. She's also overly perky and positive, to the point it was a little over the top. I also wasn't crazy how she confronted Harper about an incident in Harper's past, which she only found out about by eavesdropping on a conversation in a bathroom. I did like, however, that she wasn't afraid to take on the topic of female discrimination in sports journalism.
Levi's teammates are entertaining, especially Theo. It was great to see how easily they accepted him into their fold and how they all interacted with one another. I'm looking forward to reading more about them in future books.
Good Guy is about second chances, both at love and career. It's a good introduction to the Rookie Rebels series. I would recommend this to readers who enjoy hockey romances, and those who enjoyed the Chicago Rebels, as the Rookie Rebels series is a spin-off of that one.
Book Info:

Publication: July 30, 2019 | Kate Meader LLC | Rookie Rebels #1
Fans can't get enough of Levi Hunt, the Special Forces veteran who put his NHL career on hold to serve his country and fight the bad guys. So when his new Chicago Rebels bosses tell him to cooperate with the press on a profile, he's ready to do his duty. Until he finds out who he has to work with: flame-haired, freckle-splashed, impossibly perky Jordan Cooke.
The woman he should not have kissed the night she buried her husband, Levi's best friend in the service.
Hockey-stick-up-his-butt-serious Levi Hunt might despise Jordan for reasons she can't fathom—okay, it's to do with kissing—but her future in the cutthroat world of sports reporting hangs on delivering the goods on the league's hottest, grumpiest rookie. So what if he's not interested in having his life plated up for public consumption. Too bad. Jordan will have to play dirty to get her scoop and even dirtier to get her man. Only in winning the story, she might just lose her heart.