Cinderella in the Billionaire's Castle by Clare Connelly's beautifully emotional fairy tale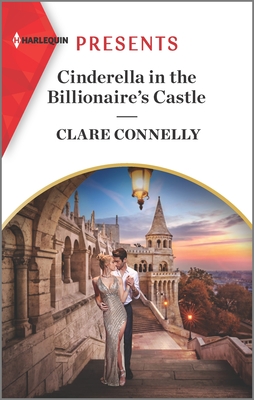 mash up of Cinderella and Beauty & the Beast.
Her future riding on absolutely everything, Lucinda bravely approaches the reclusive Thirio. She has developed the most stunning wedding plan for his sister and knows, without a doubt, if she has a chance to explain it to Thirio, he will surely and most certainly choose her as his sister's wedding planner. Not expecting the cranky and fearsome beast of a man Lucinda is heartbroken her dream of a better life is slipping out of her hands when Thirio thunders his rejection and orders her to be gone. The blessing of a torrential storm graces Lucinda with additional time in Thirio's castle and she doesn't waste a second of it to coax Thirio through her wedding plan.
Clare Connelly captured the essence of the beloved Beast perfectly. In my mind Thirio was literally prowling frantically back and forward, tail swishing, almost stomping in absolute detest his sanctuary had been breeched.
I loved the growth and paring of Lucinda and Thirio. I loved watching them grow closer together. Thirio's walls slowly crumbling was humbling. He is a man burnt inside and out with guilt, grief and shame. I feel Thirio's brokenness was one of the best captured I have recently read. It stirred emotions that had me really feeling for him. Thirio is pining for his lost family but beneath the gruff exterior he has a heart of gold and slowly warms to the glow Lucinda weaves around Thirio's darkness.
Lucinda is the perfect partner for Thirio. In her own way she was also broken but she has determination and a plan to change her small world for the better. Together Thirio and Lucinda brought the best out in each other. Lucinda is kind and beautiful inside and out and it's not long before her heart loves Thirio for all he is. Their attraction is combustible once the walls crumble and love shines through. Burrowed feelings are released and the journey had my heart racing.
I really, really enjoyed Cinderella in the Billionaire's Castle and I adore the cover. Highly recommended for all those who have magical memories and a fond love for Beauty & The Beast and Cinderella.
Book Info:

Publication: July 2022 | Harlequin Presents | Passionately Ever After #5
The billionaire wouldn't let anyone in… Until she breached his walls!
Tormented by the guilt of his past, Thirio Skartos hides in the shadows of his Alpine castle. He's deprived himself of the wild pleasures he used to crave. Until Lucinda Villeneuve makes it beyond his imposing steel-reinforced door.
Wedding planner Lucinda must persuade the superrich recluse to hire her. It's the only way to reclaim her rightful place in her father's company. But when a storm leaves her stranded, she has no choice but to stay… And to resist a totally forbidden night in Thirio's powerful arms!
Read all the Passionately Ever After… books:
Book 1: A Baby to Tame the Wolfe by Heidi Rice
Book 2: Stolen Nights with the King by Sharon Kendrick
Book 3: The Kiss She Claimed from the Greek by Abby Green
Book 4: A Scandal Made at Midnight by Kate Hewitt
Book 5: Cinderella in the Billionaire's Castle by Clare Connelly
Book 6: The Princess He Must Marry by Jadesola James
Book 7: Undone by Her Ultra-Rich Boss by Lucy King
Book 8: Her Secret Royal Dilemma by Chantelle Shaw