In Here for the Drama by Kate Bromley (6/21), Winnie has spent the last five years working as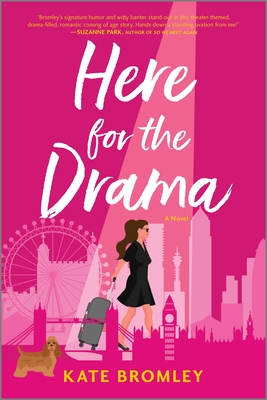 an assistant to playwright Juliette Brassard in NYC, hoping maybe some of the famous woman's genius can find its way into the play she herself is writing. So far, nothing doing. With a deadline to complete her manuscript looming and a trip to London sprung at her last minute, Winnie is in panic mode. Juliette assures her that there will be time to work on her play. But with a new pop-up production of the playwright's famous work, The Lights of Trafalgar, being put together for a park in London and all the details that will go with it, how is Winnie going to accomplish it all?
"And as sweet as Ollie is, I'm afraid he can't stay up here unless he's potty trained. On a scale of one to ten, how in love with him are you?"
Ollie and I gaze at each other, and I then gaze back at Juliette. "He just called me 'momma' telepathically."
Juliette chuckles.
Okay, so London is everything Winnie had hoped it would be. And then some, considering she not only rescues an abandoned puppy, Ollie, with whom she falls madly in love but she also meets Juliette's nephew Liam and is pretty smitten right away. Something Winnie feels a tiny bit guilty about where Juliette warned her off of a relationship with Liam when they first arrived in London. But as with everything when it comes to her boss, she knows to take the advice with a grain of salt. Or maybe not. Because as soon as Winnie begins enjoying her time with lovely Liam and continues to try to get Juliette to critique her play, it all implodes. Lines are crossed. Words are said. And feelings get hurt, all around. It will take time and some much needed soul-searching for Winnie, Juliette, and Liam to reconcile–along with some grit, determination, and compassion from them all.
'We both smile, and in that moment, every other thought falls away. It's just me and my friend, and we are going to get through this.'
A quirky romance with enough theatrics, snappy dialogue, and chuckle-worthy moments to brighten your day, Here for the Drama was a smashing sophomore success by author Kate Bromley.
"I think I've experienced more stress in two and a half weeks with you than I have in the past ten years."
"Oh yeah? Does that make you wish we never met?"
Liam's face softens as he steals a peek over at me. "Quite the opposite," he says. "I wish I had met you sooner."
I was completely charmed by Kate Bromley's flowing writing voice and her use of humor to balance out heavier themes in her debut, Talk Bookish to Me. And, thankfully, Here for the Drama had everything I loved about her first novel, but with its own unique spin. Set in the theater world, this was told from our heroine Winnie's witty POV. She could be melodramatic of course. She was smart and insightful. She was not easily embarrassed and had no verbal filter, much to our entertainment. But even with her new bestie Roshni (who I adored!) by her side, Winnie was also lonely. She not only felt like she was very "leavable" seeing as how she'd had people leave her in various ways over the years, but she was hoping for a grand romance of her own to cherish. Cue geek-chic Liam, stage left.
Liam…swoon. He was SO wonderfully British! With the adorable awkwardness of a computer guy who was not adept socially and the way he was humble about his success in business, Liam was the kind and steady sort of guy that was perfect for Winnie's energy. Their meet-cute was worthy of the big screen. And even the bit of taboo surrounding their attraction–Liam was Winnie's boss Juliette's nephew–only added to the heat. Their conversations bounced from one thing to another in the most delightful and dry-witted way with wonderful banter that had me giggling. Everything about Winnie and Liam together worked for me. It was the relationship between Juliette and Winnie that caused some red flags.
I won't say that Winnie and Juliette had a completely toxic relationship but boundaries were crossed–from professional into personal territory–by Juliette that had me shaking my head "nope". It was an interesting dynamic between them. And by the end I adored how Bromley left things in a realistic manner. But I wanted to mention that, yes, Winnie does put her foot down (in spectacular fashion) with Juliette eventually, in case readers get bogged down with that particular part of the story.
QOTD: Have you been to a pop up, one-day-only theater (or musical) production before? If so, how did you like it?
Book Info:

Publication: Published June 21st 2022 | by Graydon House |
It wouldn't be the theater without a few theatrics…
Becoming a famous playwright is all Winnie ever dreamed about. For now, though, she'll have to settle for assisting the celebrated, sharp-witted feminist playwright Juliette Brassard. When an experimental theater company in London, England, decides to stage Juliette's most renowned play, The Lights of Trafalgar, Winnie and Juliette pack their bags and hop across the pond.
But the trip goes sideways faster than you can say "tea and crumpets." Juliette stubbornly butts heads with the play's director and Winnie is left stage-managing their relationship. Meanwhile, Winnie's own work seems to have stalled, and though Juliette keeps promising to read it, she always has some vague reason why she can't. Then, Juliette's nephew, Liam, enters stage left. He's handsome, he's smart, he is devastatingly British…and his family ties to Juliette pose a serious problem, forcing Winnie to keep their burgeoning relationship on the down-low. What could go wrong?
Balancing a production seemingly headed for disaster, a secret romance and the sweetest, most rambunctious rescue dog, will Winnie save the play, make her own dreams come true and find love along the way—or will the slings and arrows of outrageous fortune get the best of her?