Cinderella's New York Fling by by Cara Colter : Jessica becomes close friends with two other young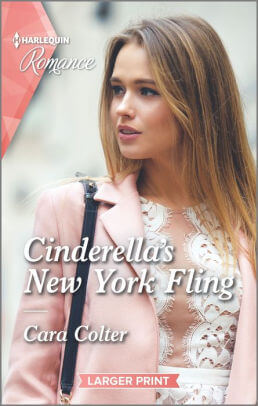 women after they help an older woman who has lost her dog and injured herself at a music festival in Copenhagen. They think they have just done what anyone should to help others, but Vivian Ascot is a CEO and at 74 wants to use her resources for good. She seems to have a gift at knowing what people need. She decides she will become a fairy godmother of sorts to help these three women attain their dreams.
The first woman she seeks to help is Jessica Winton, a woman who owns a bookstore in the small town of Timber Falls, Canada. Jessica is invited to fly to New York, all expenses paid, to meet with James Gilbert-Cooper, the COO of Jensen, Henry and Ascot, a marketing firm with a division that handles bookstores. This could be her dream job. James, who prefers to be called Jamie, is an extremely handsome man with stunning grey hair.
After some major mishaps at the airport, the two of them visit many of the New York landmarks Jessica has always dreamed of seeing, as well as discussing the job that awaits her if she wants it. Jessica is very attracted to Jamie and wonders if they could work together and if she can her parents behind in her small town home.
The author's backdrop of NYC will be fun for those who are familiar with it and fascinating for those of us that have always wanted to visit. All the glitter and glamour during Jessica's short time in Manhattan make for more fun and add to the Cinderella element.
Thanks to the talent of author Cara Colter, the reader is able to envision the transformation of Jessica from someone who dresses mainly for affordability and comfort to someone whose true beauty comes alive not only because of clothes and makeup, but from the inner person who can come to a place of peace.
Jamie may come across as a little aloof and reserved at first, but the reader comes to learn that many events from the past inform who he is now. He is more of a beta male than alpha, but he is still strong in many ways.
We all love fairy tales. Cinderella's New York Fling is a modern fairy tale that is sweet and sure to lift your mood.
Book Info:

Publication: July 1, 2020 | Harlequin Romance | A Fairy Tale Summer
She's a breath of fresh country air…in his big-city life!
When Jessica Winton's dream job falls into her lap, she's thrust from a small town into bustling Manhattan — and faced with tycoon Jamie Gilbert-Cooper. Her notoriously steely new boss is infamously tough to please, so Jessica's stunned when he reluctantly takes her under his wing! As she comes alive in this exciting new world, she wonders: How much of that's because of Jamie?